Home Security Check: Ways to Make your Home Safer
Posted by Seth Williams on Monday, June 7, 2021 at 1:32 PM
By Seth Williams / June 7, 2021
Comment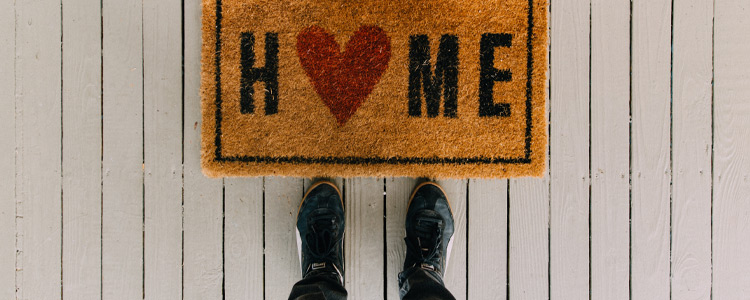 A home is a place to feel safe, secure, and comfortable. Enjoying an evening on the couch can leave you feeling sheltered and in a place where nothing terrible will happen. These are all great feelings to have about your home and safe haven, but unfortunately, things can happen that have all these feelings turned upside down.
Whether you live alone, with your partner, or friends, in the city or the country, feeling safe is important. This is why we are doing a home security check and showing ways to make your home safer.
Have a Question or Want a Free Market Report? Contact Us!
Inspect All Doors
Having a home with a steel door is the best option when safety and security are of top priority. There are a number of steel door options that include solid steel, steel and mesh as well as a door which has a steel core and a wood exterior. Another great option is a solid hardwood door; stay away from a hollow core door that is lightweight as it is easy for an intruder to kick down.
A heavy-duty deadbolt is also something homeowners will want, to ensure their entry doors won't be kicked down. Below is some key information to help find a safe and secure option for any home.
Single Cylinder Deadbolt: This type of deadbolt is a more common type and locks from the outside using a key. When operating this lock from the inside of a home, it is locked/unlocked by turning a thumb knob.
Double Cylinder Deadbolt: You can open from the outside with a key, same as a single cylinder. However, inside is operated with a key also. This can provide an extra sense of security for those with glass on their doors. An intruder can break a portion of the glass however, the double cylinder can't be unlocked by turning a thumb knob. It is important to note that the local fire code may ban these types of locks as it is deemed unsafe in an emergency situation.
Smart Locks: like many personal belongings of ours, having a lock labeled smart isn't all that surprising. This lock will use a home's wifi network to send and receive information to a smartphone or computer or by fingerprint recognition.
In addition to the number of options on the market for deadbolts, knowing the type of lock grade can also be beneficial.
Grade 1: Highest rating a lock can receive. Grade 1 is usually found in industrial buildings, however more and more are being made for residential use.
Grade 2: These locks feature high-quality steel construction and can deter most attempted forced entry.
Grade 3: A grade 3 deadbolt can still offer some protection but may not hold up to a strong intruder with a commitment to getting inside.
A front door that can deter intruders is a great first step to ensure a safe and secure home.
Light It Up!
Lighting up the outside of a home can alert people to your presence, especially when it is combined with indoor lights being turned on. Having a porch light can also help better see anyone who may be coming up the walkway from a window or when looking out a peephole. There are a number of ways to light up your home such as motion sensors which activate when there is motion being detected. There are also options that include timers and having an app set up on your phone.
This sort of tactic works indoors as well. Use timers for any lighting that is located near a window, especially at the front of the home. Be sure to close blinds, so it is harder to see if anyone is home from the outside.
Hide Valuables
It is a good idea to keep valuables out of sight to prevent any crime of opportunity. Not many people want to keep their curtains closed all hours of the day, but purchasing high-quality curtains or blinds for those evening hours so strangers can not scope out valuables is something to consider.
Keeping smaller items that hold value such as jewelry, hide them in the not so obvious spots. Dresser drawers, bedside tables and medicine cabinets are obvious hiding spots and some of the first places people will check; get creative and think outside the box. If using a safe, screw it into the ground in a closet so burglars won't be able to pick it up and walk out the door.
Be Safe While Renting
Renting a home should feel just as safe as owning and there are a number of ways a renter can feel safe and secure in their home. Before moving in, request the landlord make minor security improvements. A guide to having a safe rental:
Check all window locks and be sure they are in good working order
Change any locks on entryway doors after a previous tenant has moved out
Have a chain on the entry door as well as a new deadbolt
If you are renting a unit in a building, try and steer clear of ones with no security and/or locked entry
Windows and Sliding Doors
There are some windows that are still opened horizontally and can be lifted off their track. Plenty of homes also have a sliding back door that can be opened if someone is able to get past the lock. Both of these should have a dowel or shower curtain rod in their track to prevent anyone from getting in. It is also a good idea to consider installing a window sensor which can alert you if a window has been opened. Once receiving an alert, you are able to turn on lights remotely or check a live video feed to access the situation.
Beware Signage
Having a guard dog or protection dogs such as the Doberman, Cane Corso, German Shepherd, or a Rottweiler is a security feature many people take advantage of. If this is the case, make it known; not many people want to risk getting attacked by a muscular Cane Corso or fierce German Shepherd for a few extra dollars. It isn't a bad idea to use the " beware of dog" sign even if there is no dog.
Having a dog isn't the only sense of security on the market. There are a number of security features that include cameras and alarms, and making it known to any potential intruder is a good idea. Again, it may not be worth the risk for them to get caught on camera or alert a security company that a house is being broken into.
Security Camera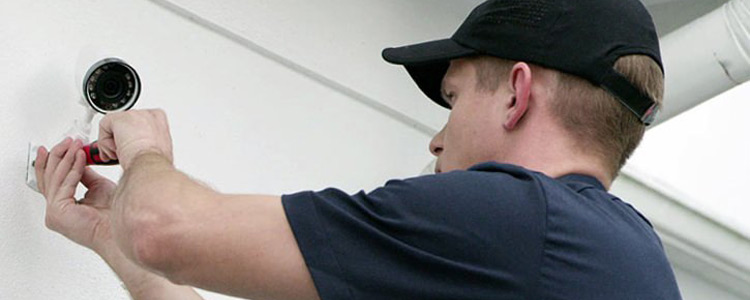 As mentioned above, security cameras can be great at deterring people from breaking into a home. There are a number of features to be found on a security camera which can include:
Continuous recording
Recording based on a motion
Wireless
Wifi
Cloud storage
Doorbell Cameras
Floodlight which turns on when the camera does can be an added deterrent
Two-Way talk
When installing an outdoor security camera be sure to have it high enough so an intruder can't jump up, grab it and smash it. Before installing, test the wifi signal to ensure it has a great connection.
Whether you are buying, or renting, in a duplex, townhouse, apartment or single-family home, having a safe home is a happy home. Following the above tips and tricks can help deter intruders of any kind so you can feel confident in your surroundings!