6 Easy Ways To Guarantee A Fast Sale
Posted by Seth Williams on Saturday, January 29, 2022 at 9:38 PM
By Seth Williams / January 29, 2022
Comment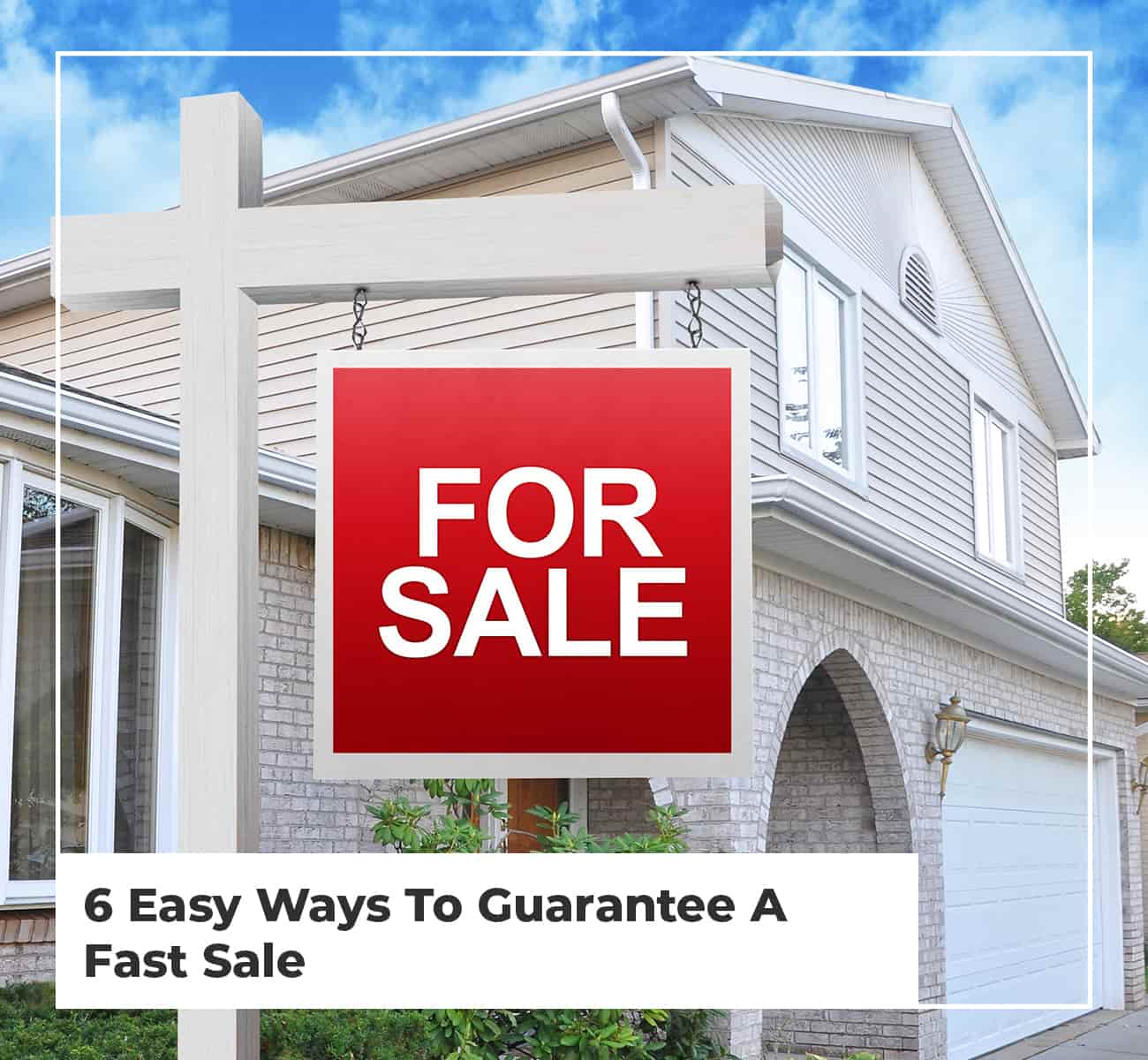 If you are looking for a fast sale because you've found your dream home, you're moving away or you need to downsize quickly, working with a real estate agent is one of the fastest ways to get your home sold. This article will give you some great tips on how to prepare our home for a quick and easy sell so keep reading if you're looking for a bit of help.
Clean and Declutter
Although the real estate agent is the one doing most of the actual sale of your home, you still need to make sure it's in good shape. Take a few of these steps to make sure your home is cleaned up and clutter-free by showing time.
Get rid of your junk
The first step you should take is to clean and declutter your room one by one so a buyer can see the space better. If you plan on moving soon then now is the best time to get rid of all of that old junk you have been storing so you won't have to worry about lugging it to your new home.

Box Up Your Clutter
Shoving all of your junk into closets is a quick fix for visitors but a buyer will want to see the entire home, including the size of the storage areas. IF you have a place to temporarily store some boxes like a friend of family members then store them there until the showing is over.
Focus on the sights and smells
Cleaning for a quick sale isn't the best time to clean the baseboards in the attic or dust the ceiling in the basement. You need to focus on the areas that a buyer will look at over places they will just need to glance at. Walk through your home as if you were a buyer and look at where your eyes fall in each room to know where you should focus your cleaning.
Stage and depersonalize
Staging your home will make a buyer feel like they are stepping into a catalog or a Pinterest pin and that's the feeling you're looking for. Let's check out a few tips to make your home look professional.

Make them feel at home
Depersonalize your home by removing family photos' fridge art and anything that is more of a keepsake. Try to pack away any clothing or personable items like hygiene products so the buyer can picture their own items in their place.
Freshen up
Painting is one of the quickest and cheapest ways to make your home look brand new. Use a simple color palette to paint each room and avoid dark colors. You can also replace some of the flowers in your yard with fresh ones so the whole house looks maintained and clean.
The nose knows
Unfortunately, some houses can develop their own scent if they're a little older just due to the aging wood or musty carpets. Use a few tricks like placing a lemon in your garbage disposal or baking a tray of fresh cookies (or a loaf of bread) before the showing so you can let the buys get the best of your home in every "sense".
Price the home right
This one can be tricky to do if you don't have the experience or you don't know what the features of your home are worth and a real estate agent can help you figure this one out. Look for homes in the same area that are similar in size and go from there. You obviously want to get the best sale price but you don't want to price it too low and short yourself and pricing it too high will drive buyers away so make sure you do some research before deciding on your final listing price.
Take care of quick repairs
When it comes to repairs there are some things that should be taken care if immediately while others can wait. Take care of things that are an immediate danger like exposed wires, broken floorboards, or leaky pipes so that your house can easily pass an inspection. Here are a few things that you can leave for the new owners to fix.
Major roof repairs (if it's not leaking inside, don't worry about it)
Any foundation issues
Any large landscaping issues like cracked walkways
Minor cosmetic issues (cracked tiles in the bathroom or peeling linoleum)
A partial upgrade (like putting a new floor in a room where everything else is outdated)
Anything that is going to take longer than a week to fix (you don't want to end up leaving it half-finished for the new owner)
Boost curb appeal
Curb appeal is the first feeling that buyer has when they look at your home while they walk past. If they are looking at a home with peeling paint, dead flowers, and a pile of trash beside the home then it's not going to look very inviting. Cleaning up everything in the front of the house, replacing dead plants, and giving the exterior of your home a quick paint job are some quick and easy ways to boost your curb appeal.
Sweeten the deal
If you're in the final stages of your sale but your buyer is still a little hesitant, ask your real estate agent what options are available for you to make their decision a little easier. This might include, covering closing costs, offering to pay for some repairs, or lowering your price. If you need your home to sell as quickly as possible, you might need to make some sacrifices.
Selling your home quickly requires a bit of hard work and some knowledge about eh real estate world so it's a great idea to hire a real estate agent to help you out. They can deal with all of the paperwork and selling and leave everything else up to you.