Optimizing Your Work From Home Experience
Posted by Seth Williams on Saturday, January 29, 2022 at 10:13 PM
By Seth Williams / January 29, 2022
Comment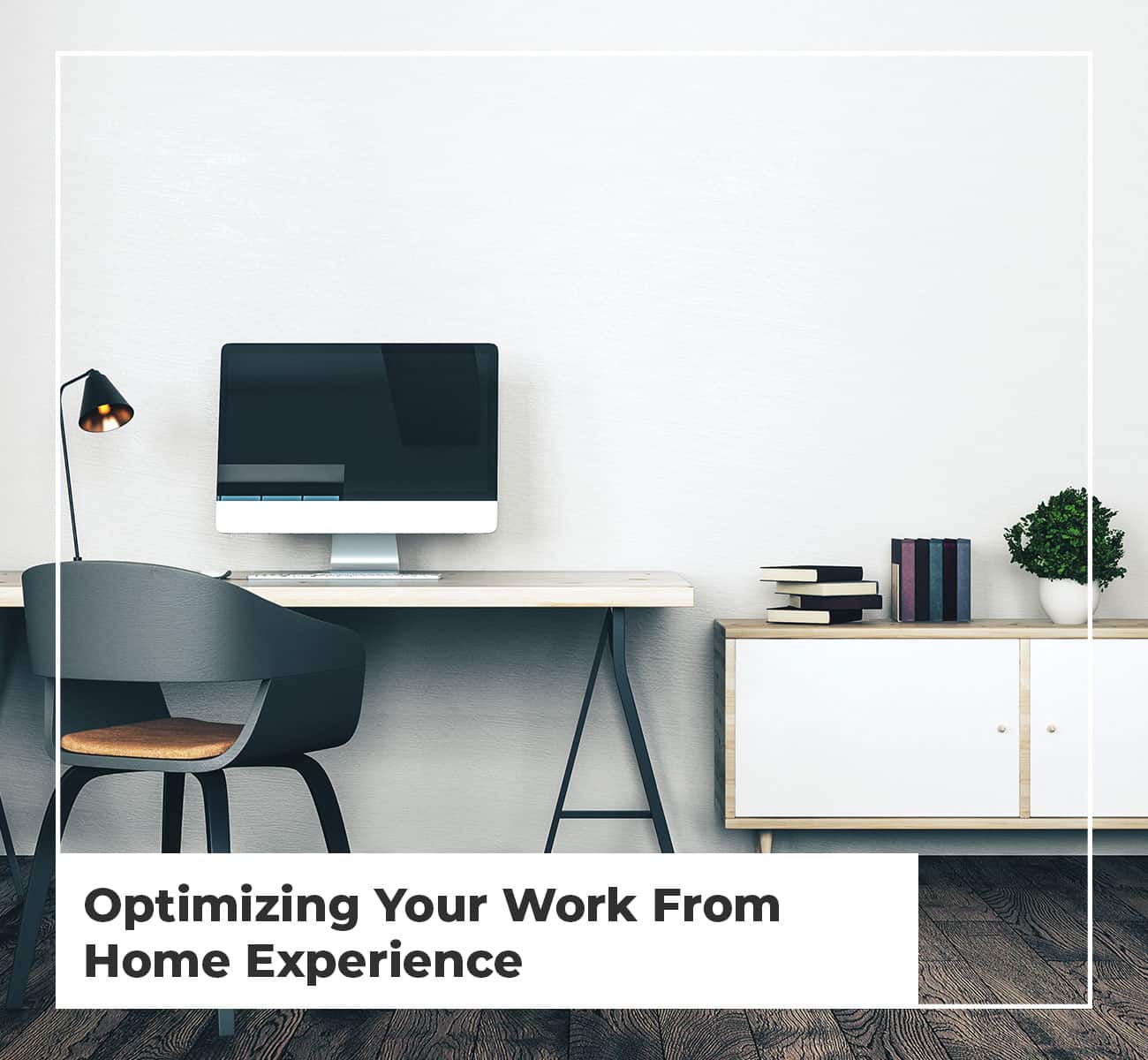 There has been a surge of people who have been forced or have chosen to start working from home in the last few years and it can be a hard adjustment. Some people have enjoyed being closer to their families while others have found that they are lacking the space they need to feel comfortable working from home and they'd much prefer the comfort of their office space.
Converting one of your rooms into an office is ideal for productivity and comfort (plus, when it comes time to sell your home, a home office is a huge hit with buyers who are looking for fresh office space) but if you don't have the extra space right now there are so many great ways you can improve your work-from-home experience with a few simple changes so keep reading to find out some of the best ways you can make working from home work better for you.
Be Sure To Take Care of Yourself
Working from home can be hard on your body and mind. It's a good idea to do some extra work on your wellness to make sure you stay in your best shape instead of falling into a rut. Let's have a look at some of the best ways you can give your brain a boost so you can remain focused and successful.
Take Back Your Commute Time
One of the best things about working from home is the lack of commute you'll need to take, if you are used to waking up and rushing out the door to meet the train or drive to work then now is a great time to use that chunk of time for self-care. Keeping your same sleep and morning routine will help your internal clock so when you have the point in the day where you would normally hop in the car, take a break and sip some tea or do a crossword puzzle to help keep your mind peaceful and focused.
Keep On Moving
You might not notice how much you actually walk at your job and it's a good idea to try and keep up the steps while you're working from home. If your job requires lots of walking then you might want to invest in a treadmill desk to keep up the pace you're used to. If an in-person job is mostly desk work with a few jaunts in between for breaks then try simply walking in place when you are standing during the day, taking a quick walk up and down your building's stair system, or going out for a short walk around the block to keep your blood pumping.

Get Some Sunshine
We just talked about how it's a good idea to walk around your neighborhood a bit but there's another huge benefit to walks. Vitamin D is an important nutrient that our body needs and getting sun is one of the best ways to do it. If you'd rather remain closer to your home then make sure to open your curtains and spend some time in your yard to make sure your body can catch some rays.
Take Breaks
Some people have taken to working from home very well but others still feel like they're having trouble performing as well in such a chaotic space. Taking a short break from your workday is a great idea to help your body and mind reset. Set a timer at whatever interval you prefer and allow yourself scheduled breaks so you can look forward to the time you have away from your work.
Improving the Look and Feel Of Your Workspace
A good office space should make you feel like you can concentrate, be free of major distractions (I'm looking at you, big screen tv) and be functional for what you need to do. There is no ideal office space and everyone has different levels of comfort but let's go over a few general ideas to improve any office space.
Finding the Right Space
An empty room is full of possibilities when it comes to design ideas but you can also create a space to work in a quiet and bright area of your home. Turning an empty room or even a nook of your home into an office space is a great idea for you and a potential buyer down the line if you end up selling. Offices give the home a mature and structured feeling and buyers love knowing that they will already have a comfortable place to work from.
Organizing and Decluttering
Keeping your space organized and free of loose or random clutter is a quick way to improve your productivity and help your brain relax. Take some time to go through your office area and put everything in its place while you remove any unnecessary distractions and you will be thanking yourself when it comes time to work. Get some bins or folders to organize your workspace and keep it clean so you have one less thing to worry about when it's time to log on.
Making it Your Own Space
Adding your own touch to your office space will make you feel like it's your own workspace instead of a temporary set-up so put some unique touches into your workspace. It could be something as simple as adding a few fun plants or cute pencils or you could overhaul the whole space and customize everything. Try to make your space have a nice look (bright colors or family photos), feel (comfortable chair and ergonomic keyboard), and even smell (use an air freshener or keep flowers close by)to make your office area feel like it's made just for you.
Working from home should be an enjoyable experience where you can remain just as productive as you would in person. If you find you are struggling with this, try making a few of these adjustments so that your day runs smoothly. If you find that your office space just isn't cutting it then talk to a realtor about finding a new home with enough space to create the office of your dreams.