Moving To and Living in Winthrop, MA: The Definitive Guide
Posted by Seth Williams on Sunday, May 2, 2021 at 12:08 PM
By Seth Williams / May 2, 2021
Comment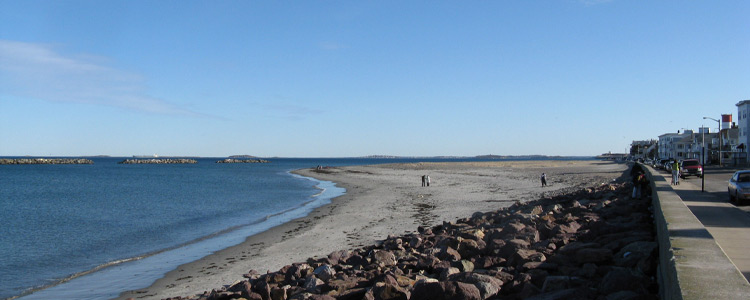 Steeped in history and ideally located along the Massachusetts coastline, Winthrop is one of the oldest communities in America. The ocean-side city is set in Suffolk County and is considered part of the Greater Boston Area.
View All Homes For Sale in Winthrop, MA >>>
Many people from across the country are attracted to the charming coastal towns that fall along Massachusetts' eastern shores. The community is home to beautiful ocean views, lovely neighborhoods and is filled with charm and history.
What is The History of Winthrop, MA?
Having first been settled in in the 1630s, Winthrop is considered one of the countries oldest communities. Originally the area was referred to as Pullen Poynt as the ocean waves made for strenuous pulling for boatmen - hence "Pulling Point."
Annexed by the Town of Boston in 1632, Pullen Poynt was mainly used as a grazing area until 1637, when the land was divided into fifteen parcels and given to prominent men from Boston who were required to build on the land within two years. One of the parcels was home to the Deane Winthrop House. Deane Winthrop was the youngest son of Governor Winthrop. The house stands to this day and is the longest continually occupied home in the country.
Years later, in 1739, areas that are now known as Chelsea, Winthrop and Revere withdrew for Boston over control issues and became known collectively as The Town of Chelsea. Again due to control issues, Winthrop and Revere withdrew from Chelsea to become North Chelsea. Not long after, Winthrop was incorporated as its own town.
Currently, there are roughly 18,500 residents who call Winthrop home which is one of the small and most densely populated communities in Massachusetts, only encompassing 8.3 square miles with all but 2 miles being water.
What is Real Estate Like in Winthrop, MA?
Coastal living is a dream for many buyers. Nestled along the ocean, enjoying breathtaking sunrises sounds every bit idyllic as it seems. There are a few real estate options found in Winthrop, which generally range from single-family detached homes and low- to mid-rise condominium communities.
Typically real estate falls around $500K to $700K; however, there are many options that range between $199K and $1.5 million. For reference, the average price of a two bedroom, single-family property is approximately $525K.
Neighborhoods in Winthrop, MA
Though a small town, Winthrop is further divided into a handful of neighborhoods as well as a central downtown area. It is essential to find which neighborhood would best suit your needs and caters to your lifestyle.
Cottage Park
Located along the Boston Harborside of town, Cottage Park is a densely populated urban neighborhood. The coastal community falls on the south side of Winthrop and enjoys prime access to beautiful water views. Cottage Park homes for sale range between the low to mid $200K's and mid to upper $600K's. The majority of homes found in Cottage Park are reasonably sized single-family detached dwellings.
View All Homes For Sale in Cottage Park, Winthrop, MA >>>
Court Park
Set just north of Cottage Park is Court Park. Often lumped together for real estate purposes, these neighborhoods offer many of the same benefits. Also enjoying easy access to the water and its prime location along the Boston Harborside, Court Park is filled with beautiful, family-friendly homes. Much of Court Park's and Cottage Park's real estate information is similar, with prices generally falling between $200K and $600K.
View All Homes For Sale in Court Park, Winthrop, MA >>>
Winthrop Beach
As its name suggests, Winthrop Beach is a community nestled along the city's most popular beach. Home to both single-family detached beach homes and newly developed condos, Winthrop Beach, is a beautiful and sought-after neighborhood. Being Greater Boston's only urban beach, Winthrop Beach is a popular location for both full-time residents and those looking for an idyllic vacation property. Prices are varied in Winthrop Beach; however, waterfront properties have some of the highest price tags in the city. Many homes can be found falling between $550K and $900K, with luxury estates surpassing $1 million.
View All Homes For Sale in Winthrop Beach, Winthrop, MA >>>
Winthrop Highland
Located along the Massachusetts Bayside is Winthrop Highland. Encompassing the northern portion of Winthrop, Winthrop Highland is a lovely community. Real estate opportunities in Winthrop Highland include mid-rise condominium communities nestled along the water's edge as well as single-family homes. Many homes enjoy water views and waterfront locations. Prices heavily depend on proximity to the coast, with options falling between $450K and $1 million.
View All Homes For Sale in Winthrop Highland, Winthrop, MA >>>
Other neighborhoods located in Winthrop, MA, include Ocean Spray, Cottage Hill, and Point Shirley.
What Is There To Do in Winthrop, MA?
Most Winthrop residents will say they enjoy spending a large chunk of this time at the beach, which is a great place to be during the sunny, summer months. That being said, the community has a few other activities to offer visitors and residents alike.
Winthrop Golf Club
Avid and occasional golfers will enjoy the well-groomed course offered at Winthrop Golf Club. Stunning views and a variety of challenging holes will be sure to impress even the most seasoned golfers.
Coughlin Park
Take in the Boston Skyline or sit back and watch planes come and go. Coughlin Park is described as a lovely neighborhood park that boasts beautiful ocean views, playgroup equipment, tennis courts, basketball courts, open green space and a small series of trails.
Deer Island
Head to the southern section of Winthrop, where Deer Island is located. Enjoy a quiet afternoon by the water in the historic park. Pack a picnic to be shared with family or friends, after which a short stroll will land you at nearby Port Shirley Beach or, further, Yirrell Beach.
Schools in Winthrop, MA
The city of Winthrop is provided education through the Winthrop Public Schools District. Governing four schools, WPS strives to provide students of Winthrop excellent education along with a handful of enrichment activities and extracurriculars.
Schools located in Winthrop are:
William P. Gorman Fort Banks Elementary School | 101 Kennedy Drive, Winthrop, MA
Phone Number: 617.846.5509 | Pre Kindergarten - Grade 2
Home to roughly 480 students, William P. Gorman/Fort Bank Elementary School is a highly rated primary school seeing at least 82% of students proficient in math and 72% proficient in reading. Students enjoy the tight-knit school atmosphere provided as well as a lower than average teacher to student ratio - 12 to 1.
Arthur T. Cummings Elementary School | 40 Hermon Street, Winthrop, MA
Phone Number: 617.846.5543 | Grade 3 - Grade 5
Just over 400 students attend Arthur T. Cummings Elementary from grade 3 to grade 5 throughout the academic year. A well-rated school, students attending Cummings are offered a safe and welcoming learning environment. There are 33 full-time teachers at the elementary schools, which produce a teacher to student ratio of 1 to 12.
Winthrop Middle School | 400 Main Street, Winthrop, MA
Phone Number: 617.846.5507 | Grade 6 - Grade 8
Though Winthrop Middle School is technically located within the same building as the community's High School, they are two entirely separate educational institutes, each with its own administrative staff. Roughly 460 middle schoolers attend Winthrop Middle from grade 6 to 8, where the school has a student-to-teacher ratio of 13 to 1.
Winthrop High School | 400 Main Street, Winthrop, MA
Phone Number: 617.846.5505 | Grade 9 - Grade 12
Students who attend Winthrop High School are provided excellent education and a number of academic programs to choose from. The school also has a wide range of extracurricular programs and enrichments, such as interscholastic sports teams. There are nearly 620 students who attend Winthrop High School annually.
Historical Sites Throughout Winthrop, MA
As mentioned above, Winthrop is one of the countries earliest communities and, as such, is home to a number of historical sites. There are five places in total which are on the National Register, which are:
Deane Winthrop House
Son of Governor Winthrop, Deane Winthrop resided in a home that is still standing to this day at 34 Shirley Street. The Deane Winthrop House is the oldest continuously lived-in home in the country and was initially constructed in 1675.
Edward B. Newton School
Built in 1908, Newton School is located at 131 Pauline Street in Winthrop. A large H-shaped, Tudor Revival building, Newton School was designed by William M. Bacon and named after Edward B. Newton. Newton was a resident of Winthrop, a committee member and a financial donor.
Fort Bank Mortar Battery
Fort Bank was a U.S. Coast Artillery fort that was built in the late 1890s as part of the Endicott Period. This time period was then the coast defense systems of the United States underwent significant expansions and upgrades.
Winthrop Center/Metcalf Square Historic District
Labeled as a Historic District, the Winthrop Center/Metcalf Square Historic District encompasses the historic areas of the city.
Winthrop Shore Drive
Winthrop Shore Drive is a historic parkway that stretches a mile long through the Winthrop Beach Reservation. The parkway is part of a series which connects major open spaces in the Greater Boston area.
Shopping and Dining in Winthrop, MA
Though most major shopping trips are completed outside of Winthrop, the community is home to a small commercial area. Offering up a variety of stores, services and retailers, residents of Winthrop are able to find their basic shopping needs in town as well as few unique stops. Stores located in Winthrop include:
Christopher's Flowers
Swetts Liquors
Sweet Ava
Beacon Photo and Frame
Winthrop Book Store
Winthrop Market Place
Dining opportunities are also an eclectic scene featuring restaurants which offer a variety of flavors to choose from. Popular eateries in Winthrop are:
Winthrop Arms Hotel & Restaurant
Belle Isle Seafood
90 Restaurant
Happy Kitchen
D'Parma Restaurant
Adriatic Restaurant and Bar
Cafe Rossetti's
Winthrop is a charming and tight-knit community that ideally balances small-town living with access to big-city amenities. From stunning beaches to breathtaking views of the Atlantic Ocean, Winthrop is a coastal community filled with something for everyone. Excellent schools, welcoming neighborhoods, necessary amenities and more await you in the historic and beautiful community of Winthrop.