Moving To & Living in Plymouth, Massachusetts: The Definitive Guide
Posted by Seth Williams on Saturday, October 17, 2020 at 1:42 PM
By Seth Williams / October 17, 2020
Comment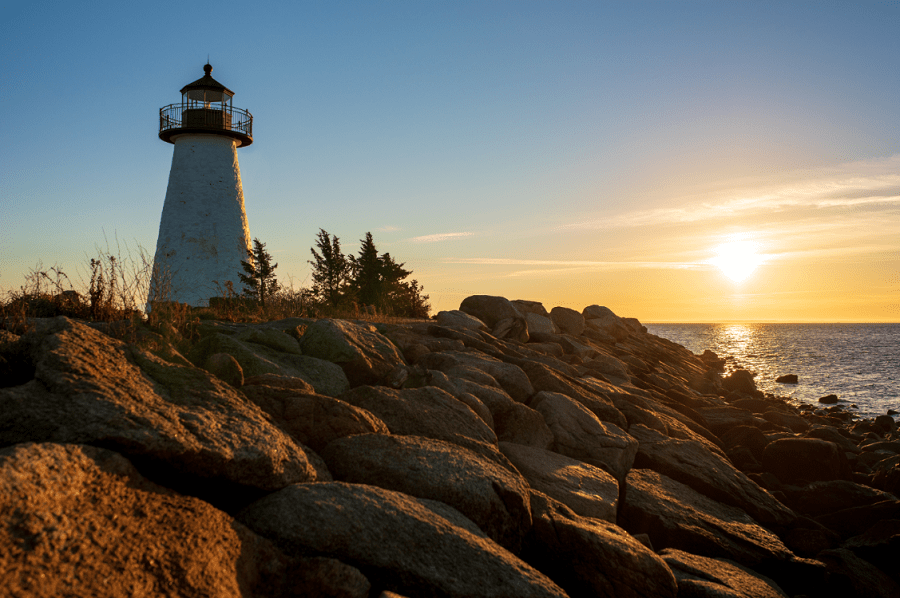 Plymouth is located on the beautiful coast of historical Massachusetts and has developed over the years as a hub for fishing, shipping, and rope-making. It is still an active port today, but has also developed into a major tourist hot spot due to its rich history and ideal location.
The town is home to the famous Plymouth Rock, the landing site for the Pilgrims when they sailed across on the Mayflower in the 1600s. It's a very well-known historical site for American culture and is still taught and learned about in schools all across America, making Plymouth one of the most studied and familiar towns in all of the United States.
Nestled in next to Cape Cod Bay, Plymouth, Massachusetts, features gorgeous scenery and offers a beautiful retreat from the chaos of everyday life. For tourists and residents alike, Plymouth can be the perfect, quiet escape to tranquil rest and relaxation. Between the calm forestry filled with trails to be explored and the marine life, quite literally, bursting from the waters, Plymouth is the epitome of perfection for all nature-lovers.
History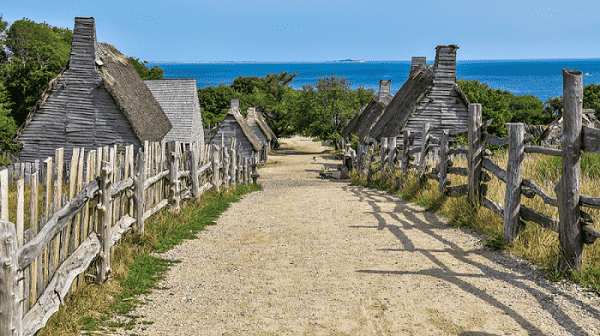 Plymouth, MA is one of the most recognizable towns in America. With its rich history and fascinating origins, Plymouth has so much to offer anyone who is interested in the founding of a very important colony.
The Mayflower landed on what is now Cape Cod Bay in 1620 and carried over about 100 Puritan Separatist Pilgrims who founded New England. This was, in fact, not their original intended landing site. The Pilgrim settlers were headed to the Hudson River near Manhattan, a part of the Colony of Virginia at the time, but never made it past Cape Cod. They realized they didn't have a patent to settle in the region, so they explored various parts of Cape Cod and eventually found a permanent settlement in the western area, near Plymouth Harbor, and thus began the new colony.
In 1691, the Plymouth Colony merged with the Massachusetts Bay Colony and a few other territories to form the Province of Massachusetts Bay. Plymouth quickly became known for its resources and trading (particularly fishing and shipping), steadily growing as a community.
In the 1800s, Plymouth became a regional center of shipbuilding and fishing. Plymouth Cordage Company (founded in 1824) was the town's principal industry and went on to become the world's largest manufacturer of rope and cordage products. This business was sustained, and thrived, well into the 1960s. Unfortunately, with the creation of synthetic-fiber ropes, the company could not compete and was forced to close down. The old factory was eventually refurbished and is now home to offices, restaurants, and stores, creating the Cordage Commerce Center.
Plymouth has continued to grow and develop over the years. With updated railroads, highways, and bus routes, the town is easily connected to Boston (about 41 miles away) and has led to residents living in the less hectic, quieter Plymouth while being able to commute to the thriving city of Boston. This has caused Plymouth to surpass several Massachusetts cities in population, but is still officially regarded as a town.
Plymouth Real Estate
With the ever-growing success of the town's economy, Plymouth has become a much more highly populated town with a population of 58,271 (according to a 2010 census). The median home value in Plymouth is $412,786. The most common housing type that can be found is three- to four-bedroom single-family detached homes, but apartment complexes, high-rise apartments, and duplexes can also be found in the area.
Being located along the coast of the Atlantic Ocean, Plymouth is ideal for those looking to bask in nature's beauty. Waterfront properties are highly coveted and can run as high as $2.5 million. Properties such as these offer stunning views of Cape Cod Bay and quite often include access to private, well-maintained beaches.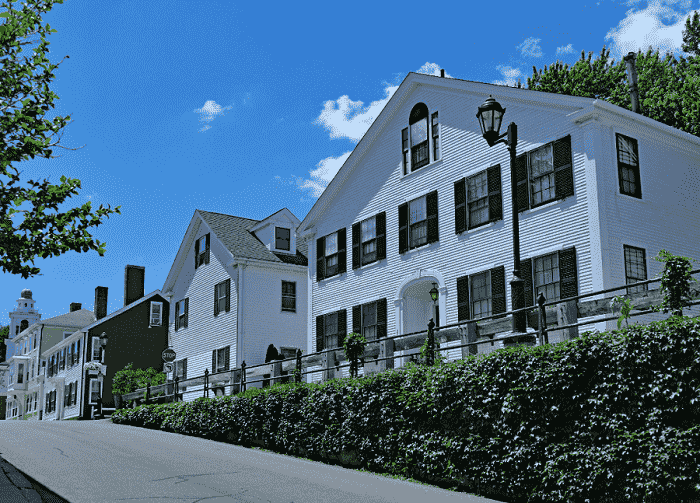 Manomet is a beautiful seaside neighborhood located in the eastern end of Plymouth. This neighborhood is ideal for families, with high-ranking schools, beautiful parks and beaches, and a low crime rate, parents will find this area to be a dream come true. The homes in this neighborhood (mainly single-family detached homes and townhouses) typically sell between $330,000 and $550,000.
Cedarville is a suburban neighborhood with rural character located near the southern end of Plymouth. Cedarville is home to stunning parks and fantastic golf courses (such as the highly rated White Cliffs Country Club) giving the outdoors-type the perfect place to call home. The homes in this neighborhood are primarily made up of small (studio to two-bedroom) homes and medium-sized (three- to four-bedroom) homes and apartment complexes. The median cost of real estate is $405,688.
The Pinehalls is a beautiful up-and-coming village in central Plymouth. This neighborhood is perfect for just about anybody. With its readily available museums, delightful restaurants, spectacular golf courses, and so much more, The Pinehalls has a little something for everyone. The homes in this neighborhood range from three- to four-bedroom townhomes, cottage-style homes, luxury apartments, and condominiums. The cost of these fantastic properties ranges between the low $400,000s to over $2 million.
Micajah Heights is located in the northern section of Plymouth surrounded by Micajah Pond and Little Micajah Pond. Homes that can be found in this neighborhood are primarily small (studio to two-bedroom) homes and medium-sized (three- to four-bedroom) homes. These quiet, country houses range in price from approximately $150,000 to $400,000.
What To Do
Plymouth, MA is bursting with activity. Just about all interests and hobbies are covered in this town. The historic museums and landmarks offer their vast knowledge and learning opportunities, the beautiful waters, woods, and parks provide unmatched views for nature-lovers, and marine enthusiasts are situated perfectly for water exploration and countless hours of whale-watching.
For golfers (beginner and more experienced), there are several beautifully maintained golf courses to try out. Courses such as Plymouth Country Club, Crosswinds Golf Club, and Waverly Oaks Golf Club are but a few of the top-rated golf clubs to be found in Plymouth. From well kept greens to beautiful clubhouses, these courses are sure to provide hours of entertainment!
Plimoth Grist Mill is a corn grinding mill formed in the 17th century by the Pilgrims of Plymouth Colony. The mill was restored in 1970 and many of the parts (the stones, spindle, and stone furniture) are from the early 1800s, salvaged from a mill near Philadelphia, PA. Visitors can observe the working water-powered mill grind out fresh cornmeal from organic corn on the 200 year-old French Buhr millstones. A great experience for all, young and old.
The W. Russell Blake Planetarium is a unique experience. The state of the art facility is home to the only 4K fulldome planetarium south of Boston. It offers breathtaking views of classic astronomy and is an excellent outing for children and anyone interested in learning more about our strange and fascinating cosmere.
Explore The Great Outdoors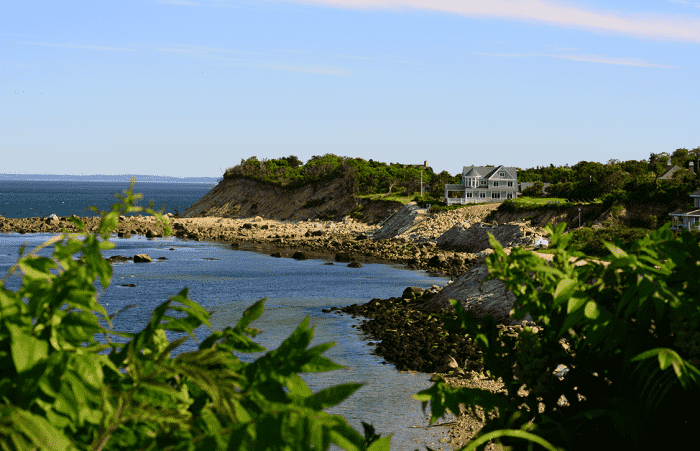 Cape Cod Bay is known for its fishing and whale-watching. The Bay, opening up onto the Atlantic Ocean, has given Plymouth its resources and shipping opportunities that helped to establish itself as a thriving community. Due to the sheltered cove of Cape Cod Bay, many whales and other aquatic creatures settle in or pass through the waters. This makes for ideal whale-watching tourism. Several companies run boats on these waters, allowing travellers and Plymouth residents the experience of a lifetime—observing the giants of the ocean up close and personal. Whale-watching is a must-do activity for anyone in the Plymouth area.
Plymouth is home to many parks and trails. Myles Standish State Forest is one of those parks, which offers year-round activities for all to enjoy. The park is open from sunrise to sunset and provides places to camp, swim, explore the outdoors, and more. With 13 miles of hiking trails along full forests of pine and oak trees, this park is perfect for hiking and biking. In the wintertime, trails are open for snowmobiles, cross-country skiing, and snowshoeing.
Walking tours are available for those who wish to explore Plymouth while getting some fresh air. Insightful and informative tours will take you through all the most historical monuments in Plymouth. Well-versed guides will take you on a trip through time, creating a most unforgettable experience.
A Focus On Education
Plymouth Public Schools is an exemplary school district that serves Plymouth, MA. The district is made up of twelve schools and approximately 8,110 pupils.
There are eight elementary schools in the district. They are:
South Elementary School
Indian Brook Elementary School
Nathaniel Morton Elementary School
Federal Furnace School
Manomet Elementary School
West Elementary School
Cold Spring Elementary School
Hedge Elementary School
There are two middle schools (grades 6-8) in the district. They are:
Plymouth Community Intermediate School
Plymouth South Middle School
There are two high schools in the district. They are:
Plymouth North High School
Plymouth South High School
Students attending public schools in the district will be provided top quality education throughout the learning institutes. Teachers, staff, parents and community members work together to provide a well rounded education. Students have the opportunity to take part in a number of extracurricular activities, programs, teams, clubs and more.
The Art & Culture of Plymouth
Plymouth is a history buff's dream come true. With the rich origins of Plymouth, Massachusetts, countless museums and galleries center around the founding and development of the town.
Pilgrim Hall Museum is the oldest continually operating museum in the United States. This incredible establishment works to keep the history of Plymouth alive in today's society. The museum focuses on providing a narrative of the hazardous Mayflower voyage, the landing in 1620, the first horrible winter the Pilgrim's endured, and the first Thanksgiving. Pilgrim Hall Museum strives to provide accurate historical information and has been praised for their dedication and success of that task.
Plimoth Plantation is home to Mayflower II, a full-scale reproduction of the ship that brought the Pilgrims to Plymouth. The ship resides at State Pier in Pilgrim Memorial State Park and encourages visitors to view the historical wonder from the waterfront, a truly unique experience for history-lovers all around.
Plymouth also boasts of their dedication to the arts. The Greater Plymouth Performing Arts Center (GPPAC) is a non-profit organization that provides opportunities to showcase theater, music, dance, and educational programs that support all things artistic. The Spire is a venue for just such occasions. This venue adds to the thriving tourist community and has become a cornerstone for the visitors and residents of Plymouth.
Restaurant and Shopping Variety
Plymouth offers a great deal of dining establishments. There are quaint cafes, home-style pubs, family owned and operated diners, and most importantly fresh-caught seafood joints. Being located just off the Atlantic Ocean, fresh, delectable seafood can be found in abundance in Plymouth and is a staple in the diets of tourists and locals alike. Some popular locations include Cork + Table Kitchen and Bar, Surfside Smokehouse, Cafe Strega and Tavern on the Wharf.
With the popularization of craft breweries, Plymouth has not failed to jump on that industry. Plymouth is home to several independently run breweries such as Mayflower Brewing Company, Second Wind Brewing Company, LamaNama Beer Labs, and more. These friendly and cozy establishments are but a few of the places that make Plymouth such an enjoyable town.
There are some truly fantastic shopping opportunities to be had in Plymouth. Locals enjoy lazy weekend mornings at farmers markets such as Bramhall's Country Store and memorable afternoons spent wandering the many boutique and custom specialty shops. At the beautiful Plymouth Harbor, locals and visitors can enjoy Village Landing Marketplace, a quaint open-air market complete with cobblestone paths, clapboard buildings, a winery, and an eclectic collection of specialty shops filled with clothing, collectibles, fine gifts, and more. A more picturesque shopping experience will be hard to find!
Plymouth, Massachusetts is a stunning town providing residents with a perfect blend of rich history and modern amenities. Ideally located amongst beautiful natural settings, the Plymouth area offers lovely coastal living, a variety of friendly neighborhoods, well-rated schools and much more!