Top 5 Boston Suburbs You Will Want To Move To Now
Posted by Seth Williams on Wednesday, November 3, 2021 at 12:03 PM
By Seth Williams / November 3, 2021
Comment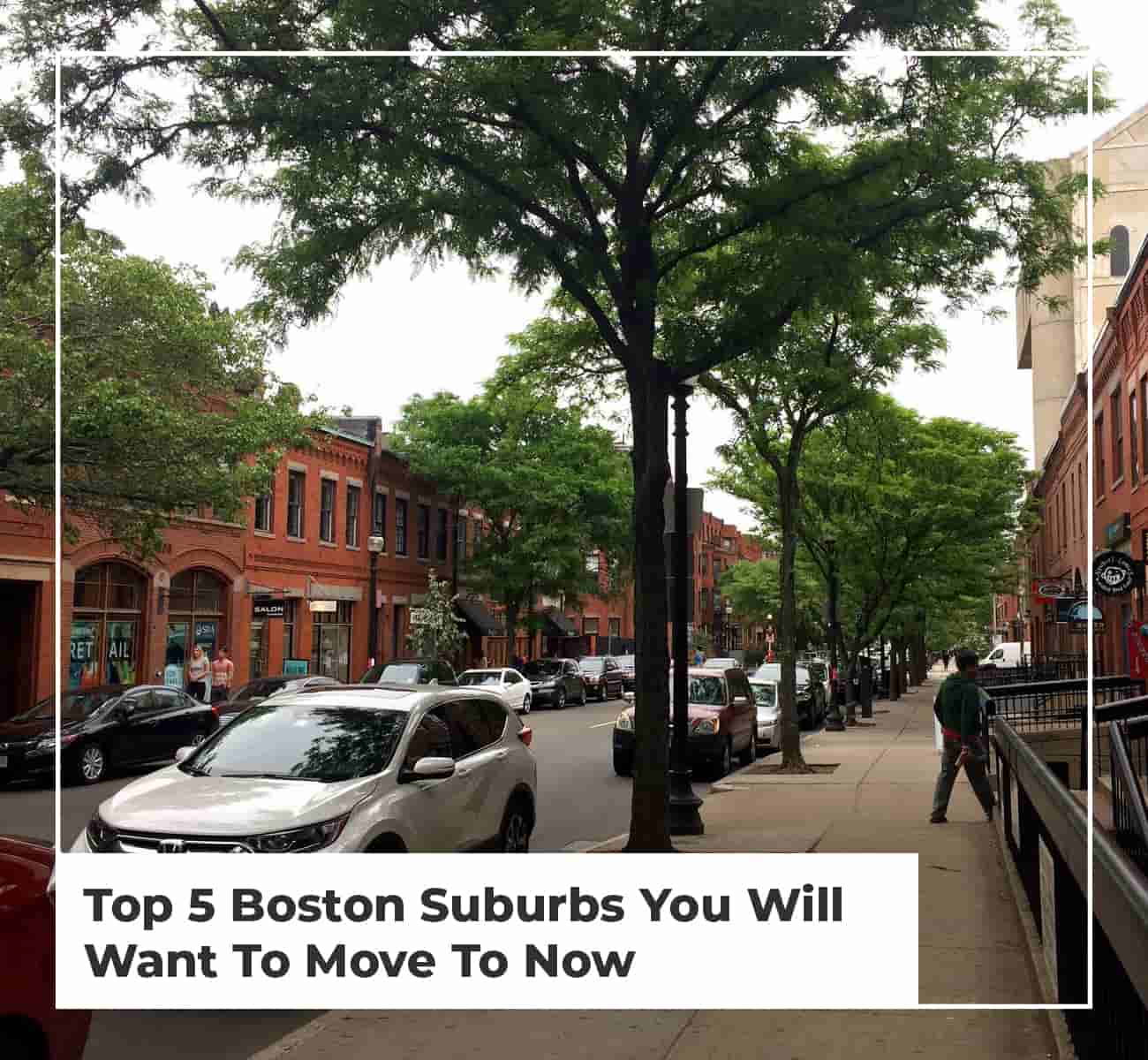 The city of Boston is known for its rich history, amazing attractions, and plenty of job opportunities. However, the high prices of living in Boston are not always appealing, especially if you're a first-time homebuyer or on a tight budget. Also, many families enjoy a quieter, suburban setting to raise a family, set down roots and relax. Lucky for you, the Boston suburbs have plenty to offer! Here are the top 5 suburbs you will want to move to!
Belmont, Massachusetts
Belmont is a beautiful western suburb of Boston. Technically a city, Belmont is considered part of the Boston Metropolitan Area and is home to just over 27,000 residents. Falling only 8 miles from downtown Boston, Belmont is an ideal alternative to city-living, while providing easy access to the city.
Real estate in Belmont
What started as a farming community and slowly transitioned to greenhouses, Belmont still offers a semi-rural feel. This history is evident in the large homes dotted throughout the city, which generally sit atop larger than average lots.
Many of the homes for sale in Belmont, Massachusetts are spacious and historic, two-story properties which feature colonial-style porches. For those looking for smaller housing opportunities, a few of the homes have been converted into modern and stylish condos. As to not disrupt the aesthetic appeal of the community, many of these homes kept the original exteriors while only renovating the interior.
Belmont is one of the most pricey suburbs with many of the large homes costing between $1 and $3 million. However, if you are set on the area, there are less expensive options, with multi-bedroom condos starting around $500K.
Living in Belmont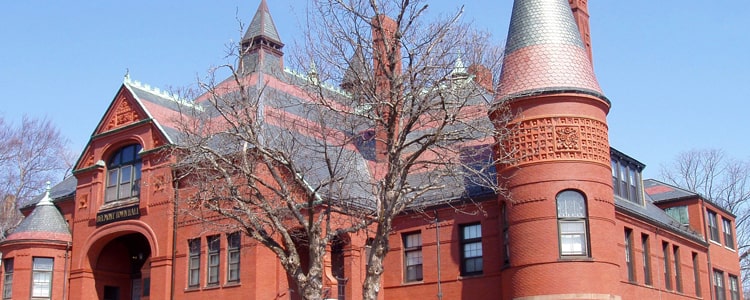 Belmont, Massachusetts is a fantastic place to call home. The quaint city offers residents a quiet alternative to Boston while being only a short distance away, making it a perfect option for commuters.
Thanks to its origins as a farming town, Belmont still has plenty of open green space, public lands and parks. Popular areas for residents to visit include:
Rock Meadow Conservation Area
Beaver Brook Reservation
Clay Pit Pond Park
Mass Audubon's Wildlife Sanctuary
At the northern tip of the city, the Belmont Country Club offers golfers a scenic and well-cared-for course. This premier club opened in 1918 and features a pool, tennis courts, and state-of-the-art clubhouse.
Schooling offered in Belmont, Massachusetts is governed and administered by the Belmont Independent School District. In a well-ranking district, students of the city have access to excellent public education options. There are four elementary schools, one middle school and one high school located in Belmont. The city is also home to a handful of private schools.
For residents of Belmont, there are plenty of amenities dotted throughout the city making for comfortable living. Whether it be grocery stores, gas stations, personal services and more, residents need not travel far from home.
View All Homes For Sale in Belmont, MA >>>
Newton, Massachusetts
Located approximately 7 miles from downtown Boston is the city of Newton, Massachusetts. More of a collection of small villages than the city, Newton does not have a traditional city center rather pockets of light commercial areas. While this may be a deterrent to some, many enjoy the rural feel of the community.
Real Estate in Newton
Newton, Massachusetts real estate is an eclectic mix of housing styles and sizes. From sprawling estates to charming two-story homes, properties for sale in Newton virtually cover all wants and needs.
There is a rather wide selection of condominium and multi-family homes found throughout the villages that make up Newton. These offer a less-expensive purchase option for those who are looking for low-maintenance living. On average, homes for sale in Newton range from $800K to over $3 million.
Living in Newton
Newton draws prospective homebuyers in with its small-town charm. With the absence of a large downtown district, many of the 14 villages that are located within Newton feel like separate little communities of their own making it an ideal setting for families, retirees and those looking to escape hectic city life.
There are plenty of opportunities for outdoor exploration and fun found throughout Newton. If you are an avid golfer, the area is home to a number of meticulous courses which offer a varying degree of difficulty. Courses include:
Newton Commonwealth Golf Course
Woodland Golf Club
Brae Burn Country Club
The Country Club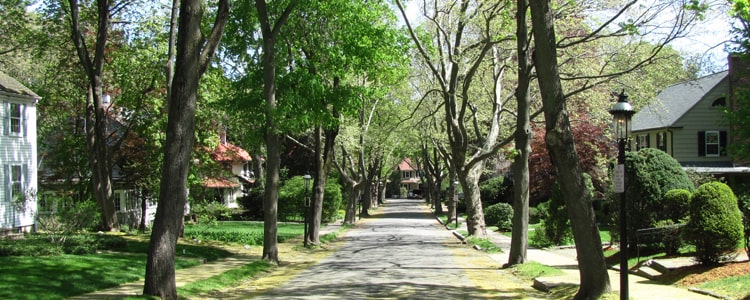 As mentioned before, Newton does not have a distinctive commercial area, however, there are still plenty of amenities found in villages. Shopping centers found in Newton offer everything from daily needs such as groceries and pharmacies to specialty items and gifts.
Newton Public Schools oversees public education for the city. There are over 20 public schools that are set up around the district and provide students with excellent educational opportunities as well as many extracurricular activities. For private schooling options, there are 5 or so schools as well as a number of higher education facilities such as Boston College.
View All Homes For Sale in Newton, MA >>>
Brookline, Massachusetts
Found in Norfolk County, Massachusetts is the town of Brookline. An extremely popular town, Brookline borders 6 of Boston's neighborhoods and is part of the Boston Metropolitan area. Just touching the shores of the Charles River, Brookline is one of the most sought-after suburbs in the area.
Real Estate in Brookline
There are plenty of options when it comes to real estate in Brookline. From classic brick homes to well-manicured high-rise condominiums, there is something for everyone in this town. For those looking for either a single-family home, stylish condominium, spacious townhome or high-rise apartment, you are bound to find the perfect spot in Brookline.
Prices are generally higher the closer you get to the Charles River, however, there are still many affordable options found throughout the town. The average price for a single-family home in Brookline is around $1 to $2 million and condos average around $700-$800K.
Living in Brookline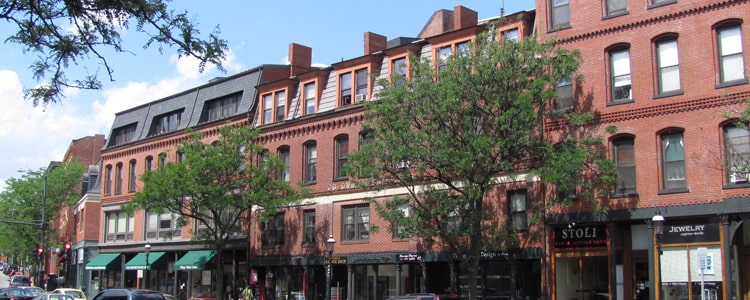 Brookline offers all of the amenities that one would expect from an urban setting while maintaining a distinct village feel. Making it ideal for young professionals and families, Brookline is home to over 30 schools as well as a number of higher education institutes.
The town is packed with shopping centers and restaurants which make up the commercial district for this Boston suburb. Shopping centers found throughout the city offer everything from groceries to gifts and unique items. There are also several public parks that provide both hiking and biking trails that are perfect for families.
The Brookline Community Center also offers plenty of fun activities for everyone in the family. From craft workshops to beautification projects, this civic group strives to bring the community together every chance they get.
Education in Brookline is provided by the Public Schools of Brookline which include one early learning center, 8 K-8 schools and one comprehensive high school. The town is also home to 8 private schools which offer both religious and non-religious instruction.
View All Homes For Sale in Brookline, MA >>>
Lexington, Massachusetts
Set within Middlesex County, roughly 10 miles from downtown Boston is the town of Lexington, Massachusetts. Approximately 35,000 residents call Lexington home where they enjoy a quiet and safe community. A historic town, Lexington is well-known for its role as the site of the first shots fired during the American Revolutionary War.
Real Estate in Lexington
Lexington offers prospective buyers a mixture of single-family detached homes and condominiums to choose from. While the single-family homes are more traditional, condominiums provide a more modern feel. Whether you are in the market for a starter unit or looking for your next family estate, Lexington is an ideal choice thanks to its diverse real estate market.
Prices for homes for sale in Lexington average from $1.5-$2 million with condominiums being around $750K to $1 million.
Living in Lexington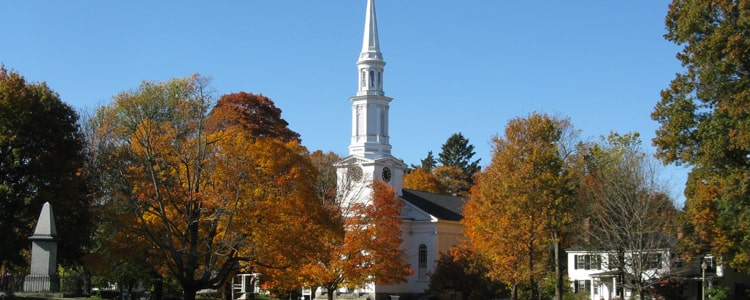 Lexington offers many great attractions for families. There are plenty of opportunities to enjoy the outdoors like hiking, biking and picnicking. Each season also brings its fair share of events which celebrate what this town has to offer.
Golfers and outdoor enthusiasts can enjoy the handful of parks and courses found in the city, which include areas such as:
Lexington Golf Club
Pine Meadows Golf Club
JW Hayden Recreation Center
Lincoln Park
Willard's Woods
Shopping centers found throughout this Boston suburb offer everything from everyday essentials to one-of-a-kind finds. Along with shopping, there is also a wide selection of restaurants, cafes, bars and bistros one can visit.
Students who reside in Lexington, Massachusetts are provided education by the Lexington Public Schools District, one of the top-ranking districts in the state. Having been recognized for its academic achievements many times, schools throughout the city strive to provide the best possible learning environment for students. There are 9 public schools encompassed by the district as well as a number of private schooling options.
View All Homes For Sale in Lexington, MA >>>
Cambridge, Massachusetts
A major suburb of Boston, Cambridge, Massachusetts is included in the Boston Metropolitan area. There are just under 120,000 residents who live in Cambridge, making it the fourth most populated city in the state. Located north of Boston, across the Charles River, Cambridge is an excellent city for those wishing to stay close to downtown Boston.
Real Estate in Cambridge
Cambridge has an extensive inventory when it comes to homes for sale in the city. Hopeful homebuyers can find just about every style and size imaginable throughout the many neighborhoods and communities. Whether in the market for a single-family detached dwelling or a modern condo unit, Cambridge real estate is diverse.
Being so close to Boston's downtown district, prices for homes for sale in Cambridge are on the higher end of area suburbs. Depending on size and style buyers can expect to pay anywhere from approximately $450K to over $15 million, though the average is closer to $1 to 1.5 million.
Living in Cambridge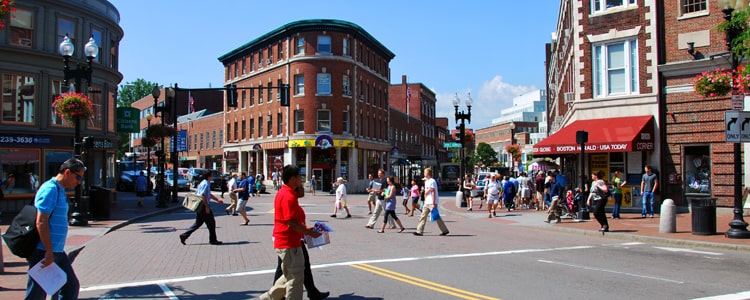 Like many Boston suburbs, Cambridge is known for offering excellent schools and meeting the needs of its residents. Whether you are looking to buy in the city or already live in Cambridge, there are plenty of opportunities to enjoy a high quality of life here because of an outstanding selection of amenities and attractions.
Known as a hub for technology and innovation, Cambridge offers many opportunities for its residents to take advantage of the area's fast-paced workforce. Some of the city's top employers include:
Harvard University
MIT
Google
For those who love cultural attractions, there are plenty of events and festivals throughout the year as well as a handful of museums, art galleries, cultural events and more which include the Harvard Art Museum and The Harvard Museum of Natural History.
Parks and community green space can also be found abundantly throughout the area with popular locations being Harvard Yard, Riverbend Park, John F. Kennedy Memorial Park and the parks surrounding Harvard University Athletic Complex, which fall just across the Charles River.
Though many think of the exceptional universities found in Cambridge when talking about education, the public school system is also top-rated. The Cambridge Public School District prides itself on offering world-class education to students of all ages. Home to the Cambridge Center for Adult Education, there are also many opportunities in the city for adults who wish to acquire new skills or start a new career as well.
View All Homes For Sale in Cambridge, MA >>>
Overall, these are all prime Boston suburbs to live in for any person looking to move out of the city. They offer a wide range of housing options and excellent schools that will meet your needs as a parent or student well. The cultural institutions found throughout the area provide plenty of opportunities for entertainment and education while also being close enough to downtown Boston so you can enjoy everything it has to offer too!
Whether you are looking to relocate out of the city or moving to the area from elsewhere, these are all wonderful Boston suburbs to consider calling your new home!
Seth has 15 + years in multi-unit retail management, and is bringing the renewed focus to the client that has been absent from the industry for decades. We integrate the latest and greatest technology, at the same time making your purchase or home sale as stress free as possible.
Get in touch today by filling out a contact form or giving us a call.