The Best Cities To Live In North Shores, Massachusetts - The Definitive Guide
Posted by Seth Williams on Monday, October 5, 2020 at 3:21 PM
By Seth Williams / October 5, 2020
Comment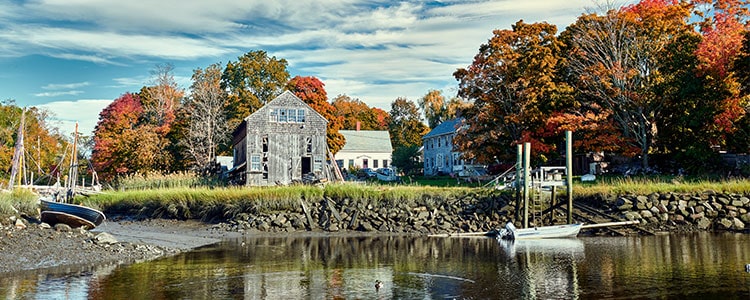 North Shore Massachusetts is loosely described as the coastal area that falls between Boston and New Hampshire. Filled with beautiful scenery and lovely waterside towns, North Shore, Massachusetts is an ideal location for those who wish to remain close to larger cities, but enjoy the quiet and calm of small towns.
Though not defined as any fixed region, North Shore played an important role in the historical and cultural development of Massachusetts. The area is steeped in history, much of which is still evident today in the numerous buildings, historical sites and downtown areas.
We've compiled a list of some of the best cities to live in in the North Shore offering residents access to many amenities, recreation areas, restaurants, services, well rated schools and beautiful coastal scenery.
Peabody, Massachusetts
Peabody is located just west of the coast, between Salem and Lynnfield, Massachusetts. It is a friendly and welcoming town that is a great option for those looking to raise a family or place down some roots.
The area is rich in industrial history, known as the Leather City or Tanner City due to the many tanneries that lined the downtown district. Though the economy took quite a blow when they closed or left the area, it was able to bounce back by becoming a part of the automotive industry in the early 20th century.
Peabody's real estate market consists of mainly single-family detached homes throughout its many traditional style, suburban neighborhoods. Home styles are varied from ranches, new england, colonial and more. Residents enjoy comfortable size lots, quiet streets and friendly communities.
For those commuting to surrounding towns and cities throughout the North Shore as well as Boston, Peabody provides quick and easy access to transit options and major roadways. Downtown Boston can be reached from the Peabody area in approximately 30 minutes or a train station is just 10 minutes away in Salem.
Peabody is full of shopping, dining, recreation and family-friendly activities. Golfers will enjoy the many courses that surround the area. The Salem Country Club is located in Peabody and played host to a number of championships. Peabody is home to the Northshore Mall which is one of North Shores largest shopping malls. The upscale shopping center offers a wide range of stores, retailers and more.
Well rated education, parks, recreation centers, ideal location and more are some of the reasons why residents love Peabody.
View homes for sale Peabody >>>
Beverly, Massachusetts
Once a part of Salem, Beverly, Massachusetts is located approximately 25 miles from Boston along the coast. Boasting small town charm, Beverly is considered by many as the birthplace of the American Industrial Revolution having been home to the first and largest cotton mill.
Today, Beverly is full of excellent schools, quiet neighborhoods and a historic and vibrant downtown area. Though ideally located near large cities, Beverly residents enjoy many amenities, parks, recreation areas, and attractions within their own town.
The majority of homes for sale in Beverly are single family detached dwellings, however, nestled along the coast are a wide range of condo and apartment style units. From sprawling coastal estates to newer townhomes hugging the shores, there is something for every buyer in Beverly.
There is no shortage of things to see and do in Beverly. A town steeped in American History, Beverly is home to a number of historic sites and buildings. The Beverly Cotton Manufactory, Cabot Street Cinema Theater, Larcom Theater, John Cabot House, John Hale House, North Shore Music Theater and Odd Fellows' Hall are dotted throughout town providing ample opportunity for entertainment and culture.
Miles of coastline draw in both visitors and residents at all times throughout the year to take in stunning scenery. From the cool spring breeze to the warm summer sun, changing leaves to freshly fallen snow, Beverly's coastline beckons those from near and far.
View homes for sale in Beverly >>>

Gloucester, Massachusetts
Located on Cape Ann, Gloucester, Massachusetts plays an important role in the fishing industry both historically and present day. The city features a bustling and exciting urban center north of the bay area with subsequent residential areas surrounding.
The residential real estate available in Gloucester generally consists of single family homes spanning a variety of styles and sizes. Traditional homes, cape cods, New England and colonials are dotted throughout adding to the historic and coastal feel. Newly developed townhomes and condos area available in both revamped buildings or new construction. For those wanting to take advantage of the stunning views, majestic properties overlooking the water are sprinkled along the coastline.
Residents of Gloucester have access to many amenities, parks, beaches, and more. The area offers excellent education options for those with school aged children, as well as an eclectic business district. Though known for its large fishing industry, Gloucester's downtown area also sees a number of businesses such as restaurants, travel and tourism, service and more.
Home to the oldest working art colony in the United States, Gloucester's art and cultural scene is evident at every turn. The city has attracted artists for decades and continues to do so to this day. From print to paintings, sculptures and more, Gloucester is a vibrant part of the country's art community.
Manchester-By-The-Sea, Massachusetts
Set on Cape Ann, Manchester-by-the-sea is a scenic town of under 6,000 residents. This cozy and charming seaside city was first occupied by English settlers in the early1600's and officially incorporated in 1645. From humble beginnings as a fishing community, Manchester-by-the-sea started attracting vacationers in the 1800's after well known poet, Richard Dana, built a summer house along the shores.
Ideally located just 30 miles from Boston, Manchester-by-the-sea offers residential real estate options in various forms. From historic cottages to newly developed properties, homes for sale in town cater to a variety of buyers. Single family detached homes dominate the real estate landscape ranging from sprawling seaside estates to spacious homes closer to the town center. Properties listed begin in the mid $300K's and surpass the 10 million dollar mark.
Residents of the coastal town enjoy the stunning shoreline, seeing nearly 13 miles of scenic beaches. Manchester-by-the-sea is home to Singing Beach, which received its name due the sand "singing" as it is walked upon, a phenomenon only seen at a handful of beaches around the world.
The downtown district is a charming and inviting area that boasts a number of unique and independently owned shops and restaurants. Historic museums and more line the streets and make for ideal settings for leisurely strolls and sightseeing.
Residents of the town enjoy many amenities, parks, recreation areas, well rated schools and more. With its proximity to major roadways, Manchester-by-the-sea is also an ideal home for those who commute providing the perfect escape after a long work day.
Essex
The coastal town of Essex is located just north of Manchester-by-the-sea and just west of Gloucester. Only 26 miles from Boston, Essex has a rich history in the shipbuilding industry. First settled in during the early 1600's, the town wasn't officially incorporated until 1819. A major shipbuilding site until the end of World War ll, Essex eventually transitioned to a tourist and vacation town much like its surrounding neighbors.
Essex's rich history, ideal location, charming downtown district and available real estate are many of the reasons homeowners and vacation property owners have come to the area in search of their next purchase. Homes for sale in Essex range from cozy cottages, comfortable ranches to expansive waterfront estates. Prices for homes listed in Essex see starting points of the mid $300K's and can surpass the 3 million dollar point.
Residents of Essex have access to many beautiful beaches, parks and recreation areas. Fire Tower Park, Millstone Hill Conservation Area, and Agassiz Rock offer visitors scenic winding trails and beautiful natural forestry.
The downtown district provides visitors and residents a glimpse into Essex's rich past. The Shipbuilding Museum is located on Union Street and showcases the town's contributions to the industry. Essex has also become a hot spot for antiquers from all over. There are 30 antique stores that lie within the town boundaries!
Residents with school aged children will enjoy the excellent education options provided. Essex is home to some of the top rated schools in the state. These schools offer exceptional education, safe and inclusive learning environments and ample opportunities for students to succeed academically and personally.
No matter where you choose to call home in North Shore, Massachusetts, you will be greeted with friendly neighbors, stunning shoreline, charming downtowns, and unparalleled natural scenery. Homes for sale in North Shore range from charming, historic cottages to the most grand of estates, eagerly welcoming homebuyers of all kinds regardless of budget. Well rated schools, ample recreation areas and parks, as well as unique shops and restaurants await those who choose to call one of the lovely towns in North Shore home.