6 Ways To Prevent Falling At Home
Posted by Seth Williams on Wednesday, May 25, 2022 at 4:37 PM
By Seth Williams / May 25, 2022
Comment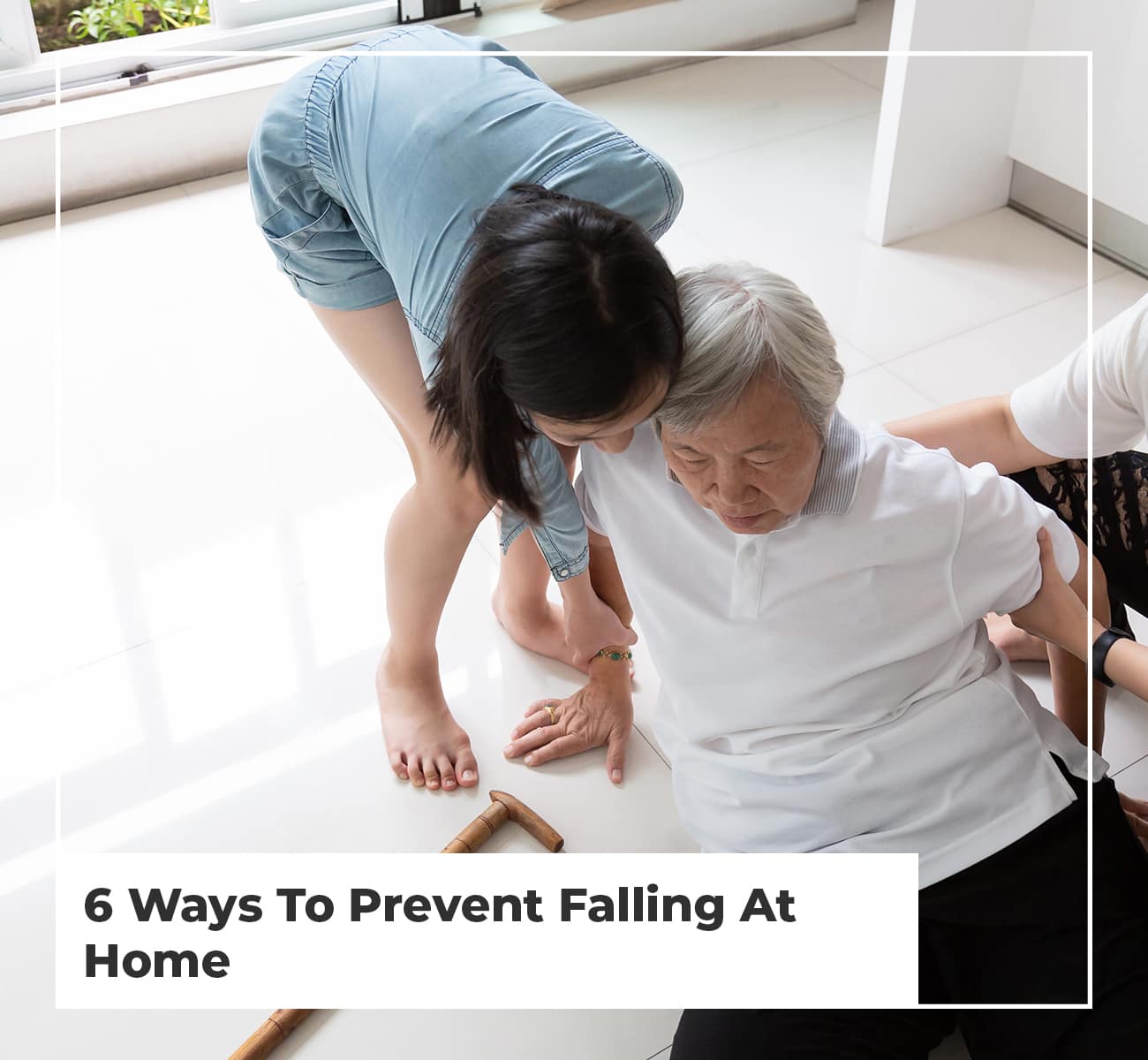 As we age, falling becomes a major concern. Falling at home can result in severe injury, and we should do all we can to prevent falls from happening. In fact, falls are the leading cause of injury for older individuals, resulting in hip fractures, cuts, gashes, and head injuries.
Fall prevention starts in the home by creating a safe space. Six out of ten falls happen in the home to older adults. Many of us don't assume our East Boston homes can be a dangerous place, but everyday items can become hazards as we age. Here are some ways to prevent falling at home.
What Causes People to Fall?
There are many causes of falls for older adults, both within our control and due to the natural aging process. As we age, our bodies change. Our eyesight starts to decline, we lose some of our cognitive abilities, reaction times slow down, hearing can decline, and we can lose sensation in our limbs. All of these changes can lead to accidents and falls.
Another cause of falling could be due to prescribed medications. Some of the side effects of medications we take can reduce our balance and cause us to fall over. Various medications from antidepressants, sleeping aids, diabetes medications, heart medications, and high blood pressure medications can impact our bodies. If you are taking four or more prescription medications or have changed medication in recent weeks, the chance of your balance being upset and slipping or falling increases greatly.
As we age, our muscles begin to weaken, and our joints begin to stiffen. Unless we continue to be active as we age, our bodies can deteriorate faster than we think. Combined with new health issues, aging muscles and joints can result in falls and injuries.
Health concerns like thyroid problems, diabetes, heart disease, nerve issues, foot issues, and blood vessel issues can all affect your balance and overall wellbeing. Confusion, caused by Alzheimer's or Dementia, increases the risk for injury.
Other common problems that might lead to falls include sensory issues, unsteadiness and balance problems. If you have irregular walking patterns, called gait, or your blood pressure drops when you get up from sitting or lying down, it could cause you to fall. Wearing the wrong kind of footwear, unsafe footwear like high heels or backless shoes, or sore feet can also lead to tripping and falling.
If you reside in a community living environment, many of these buildings are designed with risk factors top-of-mind. While they are generally safe, you can still bring your own items inside your living space, increasing your risk of injury.
Everyday household items can become hazardous as we age, like rugs or floor coverings. Poor lighting and uneven flooring can foster a dangerous environment, so it's crucial to have necessary repairs taken care of as soon as possible.
Occasional circumstances like the flu, an infection, or recovering from a recent surgery can temporarily increase the risk of falling.

1. Improve Safety Inside
Fall prevention starts in the home, and by creating a safe environment, we can help ourselves or our loved ones save themselves from injury. Here are some of the best ways to improve safety in the home.
2. Improving safety in hallways and stairways
Proper lighting throughout your home is vital, especially in hallways and stairs. Stairways can be a significant hazard when low light and balance issues are at play. If you don't have them already, install handrails to assist you while going up and down the stairs. If you need to carry something up or down the stairs, carry it in one hand and hold the railing with the other. Make multiple trips if you need to carry less to ensure your view is not impeded.
Always use lights, and having light switches at the top of the stairs, at the bottom of the stairs and along a long hallway is ideal.
Keeping your home tidy is one of the best ways to prevent injury and falls. If you happen to leave books, paper or mail, clothing or shoes all over the place, you're bound to trip on them, especially in the dark. Please do your best to keep the areas where you're walking tidy because we can often forget we've left something in the hallway until we're tripping over it.
If you have rugs along your hallways or stairs, you want to be very careful and take some necessary precautions. Ensure that all carpets are fixed to the floor firmly and that there are no edges that fold up. If there are any worn areas, holes or threads, have them repaired or replaced. No-slip strips are an excellent option for carpet owners, and they should be available at your local hardware store. Using small throw rugs or area rugs that aren't appropriately secured can be a recipe for disaster.
3. Improving safety in bathrooms and powder rooms
Anytime there is the possibility of a wet floor, you want to be extra cautious because it can be quite easy to have an accident on a slippery floor. Having grab bars and railings installed in the bathtub, shower, and near the toilet can help prevent falls.
Having bathmats that are non-skid or having them secured to the ground can help prevent slipping and sliding on bathroom tiles.
Always using the bathroom while it's well-lit is key. You never know when excess water may exit the shower or how long a bathmat will be wet, so turning on the lights is critical. Invest in a night light if you are frequently using the bathroom during the night to help provide enough light without it being too jarring and waking you up entirely.
Bathroom floors can be pretty slippery when dry or wet, and you could trip and fall when you're wearing nightgowns or pajamas that are too long or touch the floor. Wearing socks during the night and loose slippers can also be dangerous if you have a slick bathroom floor.
4. Improving safety in bedrooms
Ensure your bed is sturdy and secure. If you're getting up several times in the night, you don't want to increase your risk of falling by having your bed on wheels or it not be sturdy.
Use nightlights and keep your bed near a light switch.
Keep a flashlight and first aid kit on your bedroom side table or near you at night in case of an emergency or power outage.
Keep your telephone close by in case of emergency.

5. Improving safety in living rooms or common areas
Don't have any cords running across the floors or on walking pathways. Having them secured along baseboards or on walls is critical for preventing tripping.
All large rugs or carpets should be secured to the floor with no rips, tears or strings hanging off them.
Arrange your living space to be conducive to safety measures. Low-profile furniture items can become a hazard when placed in a way you could trip over. Try to purchase furniture that is a good height for you, so you don't struggle to get on and off of it.
Clean up spills immediately, and don't walk on freshly washed floors.
Keep everyday items you use within reach or in a spot that is easy to get to, so you can reduce the need to find them or reach up high.
Avoid standing on chairs to reach something up high. Opt for a reach stick or ask someone for help. A stool or chair can be quite unsteady, and if you have balance issues, you'll likely fall from a significant height, causing injury. If you want to use a step stool, make sure you have a railing or something to hang on to that will keep you sturdy and safe.
If you have animals, make sure you know where they are when standing or walking. Tripping over pets can be common if they like to be under your feet.
Keep your emergency contact information saved for easy access on your phone or a printed list in large text near your phone.

General rules of thumb
If you have plenty of glare through your windows in the daytime, it can cause you difficulty seeing where you're going. Using sheer blinds can help reduce the amount of glare off your floor or household items.
Having highly polished floors can cause injury because they can be so easy to slip on, especially if you prefer to wear socks and slippers around the house.
Make sure your furniture doesn't have sharp corners.
Good lighting makes a world of difference for safety in the home. Using nightlights in your rooms, bathrooms, living rooms, and hallways can help illuminate your way, so you don't trip.
In an emergency, you might be scrambling to get out of your home, which can be dangerous if you slip and fall. Ensure your smoke detectors are in working order, you have a fire extinguisher close by, a first aid kit or two in convenient spots, and a fire blanket.
Consider getting an emergency response system if you are concerned about falls or have already had an incident. If an emergency occurs or you've fallen, you can press a button on a provided necklace or bracelet, and it calls emergency services. You may have to pay extra for this service, but it might be worth the peace of mind.
If you need assistance to make your home safer for yourself or a loved one, an occupational therapist, doctor, nurse, or physiotherapist can offer their advice and provide tips to make your home an ideal environment for an older adult. Request that they visit your home so you can make actionable changes.

6. Improve Safety Outside
Falls don't always happen inside the home, and risks can be greater outside the home, as you can't always control what happens, even on your own Winthrop property. Here are some ways to improve outdoor safety.
If you're an avid gardener, clean up any tools you might be using after each session in the garden. Tripping over gardening tools can be easy, especially if they're lying in the grass and look undetectable.
If you need to do housework and want to use a ladder, ask for assistance. Especially outside, ladders can be unstable, and if you don't have the best balance, you could fall from a few feet above the ground.
Keeping your property tidy, much like the inside of your home, can help prevent falling. Removing leaves, lichen, leaves, mosses, and fungi can help reduce how slippery your pathways become while wet. Keeping your pathways well-swept can help reduce your risk of falls. This is especially important if your house has a slanting roof where hazards may slide off the roof and pile up on the ground such as the common Cape Cod style house found in Everett.
Ensuring your pathways are well-lit and in good condition will help keep you safe. Uneven and cracked cement, walking surfaces, or patios can cause injury, so repairing them as soon as you notice them is vital. If you notice footpaths are cracked near your home, you can contact your local council to take care of them.
If your eyesight is not the best, you may consider painting the edge of your outside steps to make them stand out to prevent tripping and falling down them.
If your home is waterfront or if it has rained recently be extra careful and look where you are walking to avoid slipping on a wet surface.
If You Happen to Have a Fall At Home
Suppose you've fallen at home and you're alone. In that case, don't panic. Stay where you've fallen for a few minutes and try to collect yourself. If you can reach for your phone or emergency assistance device, you can call for assistance from family. You can dial triple zero (000) for immediate assistance or your family doctor if you need an ambulance. If you can get up on your own, you can try. If you feel there is something wrong, don't try to get up in case you injure yourself further.
Beyond ensuring your home is a safe environment both inside and outside, here are six ways to prevent falling at home.
Talk to your healthcare provider
If you're starting to feel the effects of getting older and want to avoid any potential falls or injuries, you can make an appointment with your doctor. Together, you can assess your risk, and they can provide you with solutions and strategies to ensure you're in a safe environment. Some critical topics to discuss are:
Medications. The type of medications you're on and the number you are taking can impact your risk. Identifying all prescription, over-the-counter medications, and supplements you're taking and telling your doctor can help them make a plan for you and review the side effects of these medications. Some of them may cause dizziness or drowsiness, which can be an issue if you want to prevent falls. If you have additional health issues that would be exacerbated by falling or injury, your doctor may choose to wean you off of these medications. Antidepressants, antihistamines, and sedatives can alter your state of thinking and induce lethargy.
Discussing your current health conditions, especially those related to the eyes and ears, can increase balance issues. Explaining how you feel during everyday walking is necessary. If you're experiencing dizziness, pain, numbness, foot pain, or shortness of breath, you may need further evaluation of your walking style and muscle strength.
If you have already fallen and hurt yourself, you may be looking for advice to prevent further falling. Knowing all the details of the fall, like what caused it, how you braced yourself, and any other information, is how you can help your healthcare provider.

Be active and live healthily
Living a healthy life for the duration of our lives will help us age better and live longer. To maximize your lifespan, eating healthy and moving more is the answer. Vigorous exercise for at least thirty minutes a day will help keep your muscles and joints healthy. Gentle exercises like swimming, water workouts, tai chi, and yoga can help maintain your balance, strengthen your body and keep you healthy. Your doctor may refer you to a physical therapist who can put a plan together based on your current abilities and goals. Keeping on top of your balance, coordination, strength, and flexibility will help you prevent injury if you fall. Please follow your healthcare provider's instructions to ensure daily exercise is right for you.
Other healthy lifestyle choices include not smoking, maintaining a healthy body weight, and minimizing alcohol consumption. Doing these not only extends your life but also allows you to have a better quality of life. Reducing the impact of aging can help us be more independent for longer.
Assistive devices
As we age, it's only natural that we need some help. If you need a cane or a walker to keep you steady, you may want to consider installing some devices in your home to make life easier and safer. Consider adding:
Grab bars for the shower or bathtub
Handrails for all stairs inside and outside the home
Nonslip treads for wooden steps
Removable shower head to shower or bathe while sitting down

Proper footwear
Some shoes are not easy to walk in, even for the most balanced people. High heels and flip-flops can be dangerous, especially if you have balance issues or trouble walking. Consider footwear to be one of the easiest ways to prevent falls. Opting for comfortable shoes that alleviate foot pain and have a sturdy grip can stop you from falling where you otherwise may if you were wearing the wrong shoes. They should be snug, sturdy, and have non-skid soles. You can purchase insoles that can help reduce joint pain as well.
Keep your home clutter-free
Along with the tips above for fall prevention at home, keeping your home clutter and hazard-free is key. While you can't irradicate all hazards in your home, making sure your walking paths are clear, furniture is organized to promote safety, and keeping your rugs secured to the floor will be the most significant ways to reduce risk. While not everyone can afford to have a home cleaner come, asking for help from family might be feasible to keep your space clean. It can be hard to do housework as we age, so paying a professional or asking family to help keep on top of the clutter can be extremely helpful.
Lighting
Keeping your home well-lit is one of the most important ways to reduce falls. Keeping nightlights in your hallways, bathroom, stairwells, and bedroom is an easy way to make sure you know where you're walking and avoid obstacles that could be dangerous. Many of us need to get up in the middle of the night, regardless of age. However, when we are older and our vision declines, having nightlights and lamps by the bed is necessary to see where we are going. Always keep a flashlight near your bed or in your bathroom during a power outage.
Asking your primary care doctor for resources or a referral to a specialist can help you with fall prevention solutions and plans. Investing in fall prevention means that you're investing in your independence.

Causes and Risk Factors for Falls
There are many risk factors for falling as we age, and it is necessary to identify and reduce risk factors to reduce falls and injuries in older adults. While risk factors associated with aging cannot be modified, there are factors we can alter to make life a little safer for older adults. Common risk factors include:
Severe fear of falling
Gait, or impaired walking patterns
Mobility limitations that impact or are caused by daily living activities
Prescription medications like antidepressants, anti-psychotics, benzodiazepines, psychoactive, or any medications that make you dizzy can be problematic
Discussing these risk factors with your doctor can help them find a solution and provide advice to help prevent falling at home.