The 5 Best Places to Live In Essex County, MA | 2021 Edition
Posted by Seth Williams on Friday, July 2, 2021 at 7:35 PM
By Seth Williams / July 2, 2021
Comment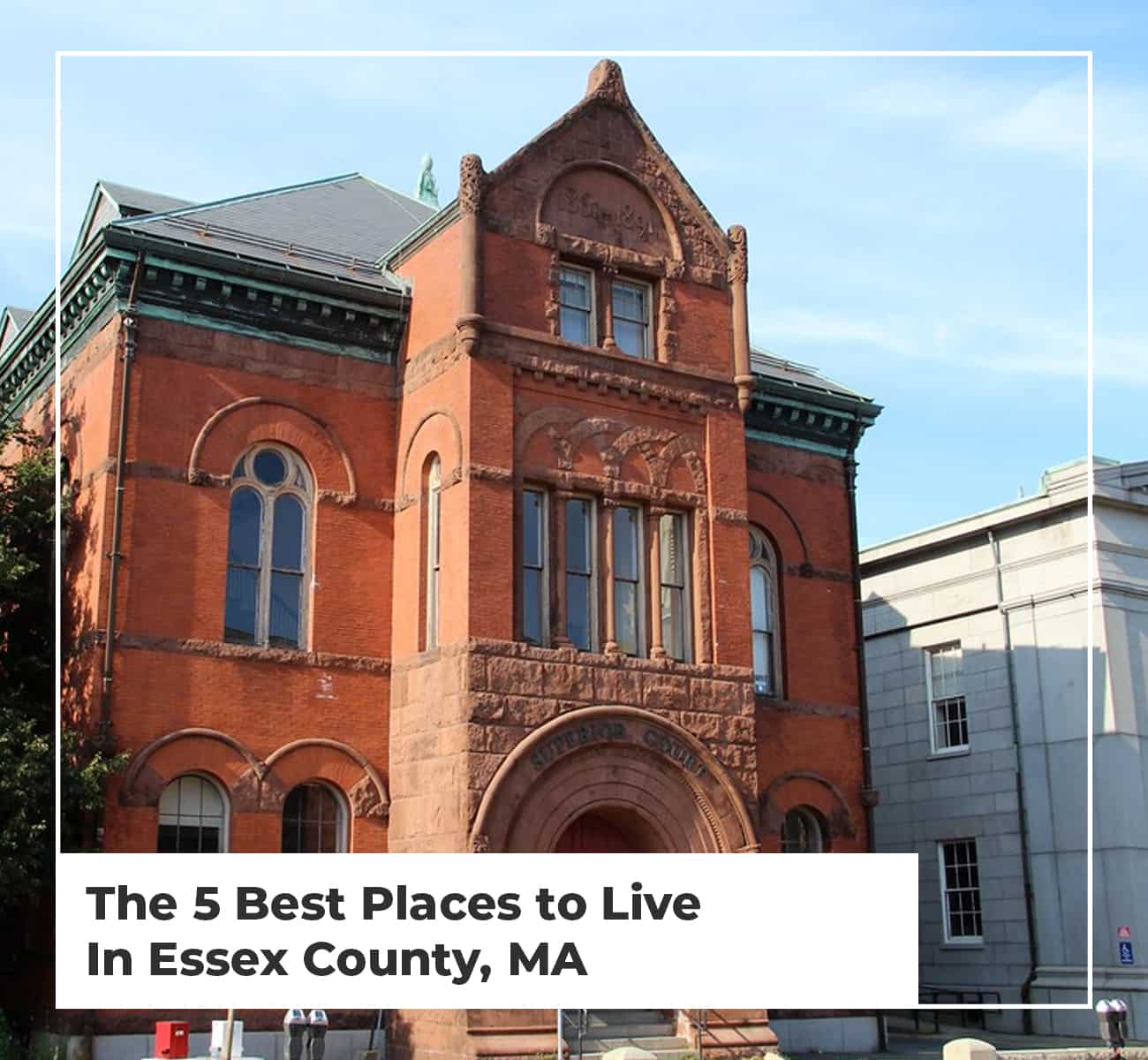 Massachusetts is home to some of the oldest and most fantastic small towns, thriving cities, and excellent counties in the country! One of the top-rated counties in the state is Essex County, which offers a mixture of urban and rural living to accommodate people of all walks of life.
Those considering moving to Essex County will have one major problem: deciding where to settle down! There are so many fantastic options in the area, and to help guide the decision-making process, we've put together a few of the very best places to live in Essex County, Massachusetts.
Andover
Located approximately four miles south of Lawrence, twenty miles north of Boston, and thirty miles southeast of Manchester, New Hampshire, sits the idyllic Andover, Massachusetts! With a population of 36,500, Andover is a mid-sized city filled with incredible amenities, beautiful scenery, and charming real estate.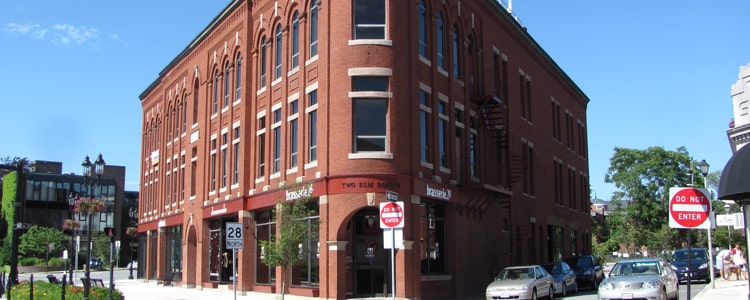 Settled in 1642, Andover was officially incorporated in 1646 and has worked its way up to being one of the most popular cities in Essex County. Home to several historical landmarks and heritage sites as well as an exceptional selection of educational opportunities, Andover is the perfect place for young families, retirees, and everyone in between!
Real Estate
As one of the top places to live in Essex County, Andover is home to an extremely competitive real estate market! Those looking to move to this beautiful section of Massachusetts need to act fast to scoop up their dream home.
According to Niche.com, approximately 81% of Andover residents own their homes, with just 19% choosing to rent. The average cost of homeownership in Andover sits at about $729,000, making it one of the more expensive areas on this list. The average cost of rent in the city is approximately $1,611 per month.
The types of housing found among the Andover real estate listings vary from cozy apartment and condo buildings ranging from $225,000 to about $1,450,000 to the most popular housing design: detached, single-family homes which range in cost from $445,000 to as much as $2,650,000.
Education
Andover students in kindergarten through twelfth grade are provided quality education through the Andover Public School Board. This highly rated school board consists of ten educational institutions serving approximately 5,856 students and employs about 893 staff and 470 teachers.

The elementary schools in Andover are:
Shawsheen Elementary School (K-2)
West Elementary School (K-5)
South Elementary School (K-5)
Sanborn Elementary School (K-5)
High Plain Elementary School (K-5)
The middle schools in Andover are:
Doherty Middle School (6-8)
West Middle School (6-8)
Wood Hill Middle School (6-8)
The high schools in Andover are:
Andover High School (9-12)
Greater Lawrence Technical School (9-12)
Alternatively, Andover locals can find excellent education in one of the four private schools within the city's borders. The private schools in Andover are:
Saint Augustine's Catholic School (K-8)
The Pike School (PK-9)
Phillips Academy (9-12)
Andover School of Montessori (PK-8)
Nearby
Andover is filled with and surrounded by historical landmarks and heritage sites. History buffs can take advantage of the various sites among the National Register of Historic Places and open their eyes to the exciting and educational history of this incredible Essex County destination.
The Chandler-Bigsby-Abbot house is the oldest house in Andover, built in 1673. Situated on a sixty-acre farm, the house was built by a blacksmith and one of the original proprietors of Andover, Thomas Chandler. To preserve the home, visitors are limited to exterior viewing only.
Along with the many historical sites, Andover is also home to a plethora of beautiful and well-maintained parks. Some of the most popular park areas include:
Bay Circuit Trail
Penguin Park
Ward Reservation
Ballardvale Park
The Stevens-Coolidge House & Gardens
Harold parker State Forest
View All Homes For Sale in Andover, MA >>>
Marblehead
Home to approximately 20,500 people, Marblehead is a coastal town in Essex County and was originally settled in 1629. Marblehead was incorporated in 1649, becoming independent of Salem. The town has roots in commercial fishing and yachting, and was a major shipyard, which led to the area being referred to as the birthplace of the American Navy. What began as a fishing village with narrow, crooked streets soon developed inland from the harbor.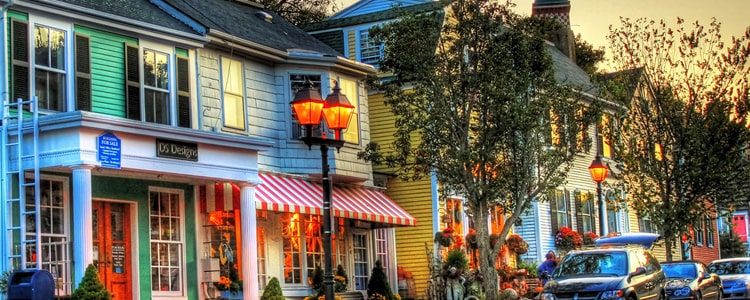 During the late 19th century, Marblehead's economy expanded from mostly fishing to include shoe-making factories. Many wealthy Boston residents established the beginnings of many esteemed yacht clubs and created summer homes in the area. Today, the town remains a popular vacation destination and is a hub for recreational boating, from sailing to kayaking. Several of the earlier 19th-century yacht clubs continue to thrive to this day.
Real Estate
Marblehead is another of Essex County's most expensive areas with the average cost of real estate sitting at $749,000. The average cost of rent ranges between $1,200 to $6,500 per month.
The main draw to this fabulous area is the safe and quiet neighborhoods, perfect for families and retirees. Marblehead is also blessed with spectacular ocean views and close proximity to major Massachusetts cities. Many of the residents of Marblehead commute to Boston for work, which is just eighteen miles south.
The median household income of Marblehead is around $123,300 and about 78% of residents own their own home. Potential residents can find detached, single-family homes starting at $559,000 and costing as much as $4,995,000. These are typically two- to three-bedroom homes situated on varying lot sizes.
Condos found in Marblehead range between $325,000 for a cozy, one-bedroom unit to approximately $749,000 for a three-bedroom home. The size of these units range from 558 square feet to 2,210 square feet.
Education
The Marblehead community is provided top quality education through the Marblehead Public School District. This well established school board is home to more than 3,050 students in pre-kindergarten through twelfth grade. The student to teacher ratio is 12:1, offering smaller class sizes and a more personal education for the students. MPS is known for their high test scores and healthy selection of extracurricular activities and teams.
Marblehead Public Schools consists of six schools:
Four elementary schools:
Village Elementary School
L.H. Coffin Elementary School
Malcolm L. Bell Elementary School
Glover Elementary School
One middle school:
Marblehead Veterans Middle School
One high school:
The town is also home to the first Commonwealth Charter School in Massachusetts, the Marblehead Community Charter Public School.
Nearby
There are a number of beautiful parks found within Marblehead featuring stunning landscapes, athletics fields and courts, children's play equipment, and picnic shelters for gatherings with friends and family. Some of the top parks in the area include:
Castle Rock Park
Crocker Park
Chandler Hovey Park
Marblehead Neck Wildlife Sanctuary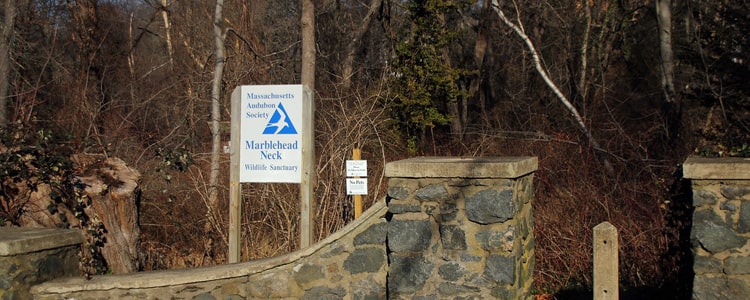 Being located along the water, Marblehead is, of course, home to a number of beautiful beaches! The most popular beach is located along Ocean Avenue: Devereux Beach. With five sprawling acres of sand, a collection of picnic tables, and a fantastic playground, Devereux Beach is the perfect destination for a day soaking up the sun with friends and family. It's also a very popular spot for the annual Fourth of July fireworks.
There are six active yacht clubs that are run in Marblehead:
Boston Yacht Club (founded in 1866)
Eastern Yacht Club (founded in 1870)
Marblehead Yacht Club (founded in 1878)
Corinthian Yacht Club (founded in 1885)
Pleon Yacht Club (founded in 1887)
Dolphin Yacht Club (founded in 1950)
View All Homes For Sale in Marblehead, MA >>>
Peabody
Peabody, Massachusetts, is located along the North Shore region of the state. THis scenic land is known for its rich industrial history and was named for American financier and philanthropist, George Peabody.
Peabody began as a simple farming community. The rivers and streams attracted the growth of many mills operated by water power. Peabody quickly became a major center of New England's leather industry and attracted many immigrants from all around the world, particularly Ireland and Russia.
West Peabody continued to grow and developed from a humble farming community into a middle- to upper-class residential area. These days, Peabody is a popular Essex destination and is home to more than 52,000 permanent residents.
Real Estate
The Peabody real estate is dominated by detached, single-family homes, but also consists of several multi-family homes and investment opportunities, mobile and manufactured homes, as well as plots of land or homes sold at lot value.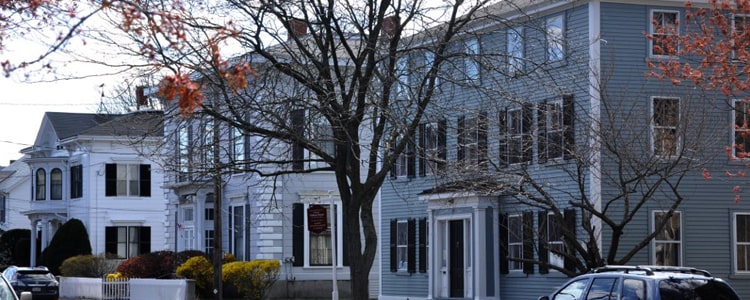 This affordable area of Essex County averages in at approximately $387,400 and the median cost of rent is around $1,366 per month. Niche.com states that 66% of Peabody residents own their own homes, while 34% are renters.
Although the average cost of real estate sits in the mid to high $300,000s, potential residents can also find homes starting at approximately $94,900 for a two-bedroom, 625-square foot mobile home, more spacious free-standing, 5,400-square foot homes costing up to $989,900, and everything in between.
The variety of real estate and range of housing costs allow anybody to be able to settle into this popular and charming town. There's a place for every budget and every lifestyle in Peabody, Massachusetts.
Education
Students ranging from pre-kindergarten through twelfth grade can find top-tier education through Peabody Public Schools. This fantastic school board is home to ten public schools, 5,973 students, and makes up a student to teacher ratio of 13:1.
There are eight elementary schools found within Peabody:
West Memorial Elementary School
Center Elementary School
John E. McCarthy Memorial School
John E. Burke School
Thomas Carroll Elementary School
South Memorial Elementary School
Wililam A. Welch Sr. Elementary School
Capt. Samuel Brown School
There is only one middle school found within Peabody:
J. Henry Higgins Middle School
There is only one high school found within Peabody:
Peabody Veterans Memorial High School
Alternatively, Peabody is home to a variety of privately run institutions including several faith-based schools. Those who are looking outside of the public school board can access one of these amazing schools:
Bishop Fenwick High School (9-12)
Covenant Christian Academy (PK-12)
St. John The Baptist School (K-8)
Nearby
One of the region's largest shopping malls was established in Peabody: The Northshore Mall (formerly known as the Northshore Shopping Center). Established in 1958, this incredible facility was built on what used to be farmland owned by Elias Hasket Derby, one of America's very first millionaires. The mall continues to thrive to this day and is a hot spot for local shopping excursions.
Peabody is also home to the Salem Country Club. This privately-owned club is complete with a professional golf course, which aws host to the U.S. Senior Open in 2001 and again in 2017. The U.S. Women's Open was held here in 1954 and 1984.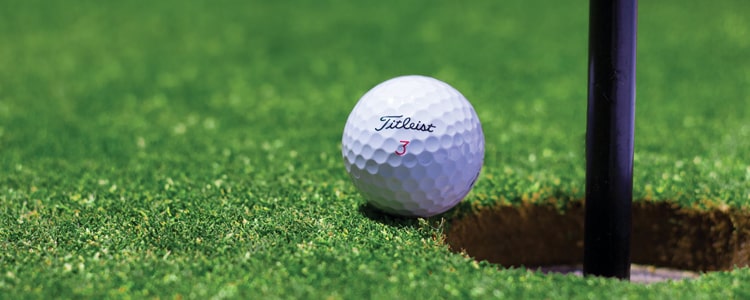 As for outdoor excursions, Peabody is home to a number of beautiful parklands, family-run farms open for public access, and many hiking trails and bicycle routes. Some of the most popular attractions include:
Independence Greenway Bike Route
Devils Dishful Pond
Brooksby Farm
Endicott Park
Obear Park
East End Peabody Veterans Memorial Park
Lynn Woods Reservation
View All Homes For Sale in Peabody, MA >>>
Beverly
Beverly is a gorgeous resort, residential, and manufacturing community found along the North Shore of Massachusetts. Originally settled in 1626, Beverly became the site of America's first cotton mill.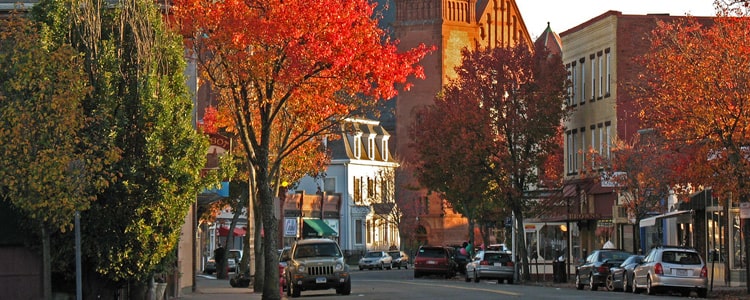 The city is conveniently situated close to many major Massachusetts cities at just two miles north of Salem, fourteen miles southwest of Gloucester, and seventeen miles northeast of Boston. This allows the nearly 42,900 locals the option of commuting to work in one of the larger cities, while residing in the quieter and more rural area of Beverly.
The city is made up of a mixture of a relatively urbanized western half and a more rural eastern section. Beverly Harbor sits at the mouth of Danvers River and the city is home to plenty of city forest and reservation land as well, providing a natural atmosphere surrounding a suburban lifestyle.
Real Estate
Beverly real estate is made up of a mixture of mobile and manufactured homes starting around $58,000, detached, single-family homes ranging between $389,900 and over $6 million, multi-family homes between $450,000 and $1,595,000, as well as empty plots of land ranging in cost between $34,000 to $5,230,000.
The proximity to the water provides ample opportunity for beautiful waterfront properties, offering some of the most picturesque homes found among the Essex County real estate listings. The average cost of these homes is approximately $437,300 and most of the residents own their homes rather than rent.
Education
Beverly Public Schools is a fantastic, above-average school district. With approximately 4,565 students in kindergarten through twelfth grade, BPS may not be the largest school board in Essex County, but it's definitely home to some of the friendliest and welcoming schools in the area.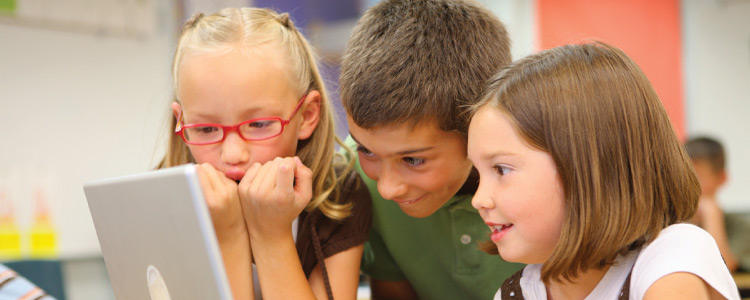 There are five elementary schools in Beverly that provide education to students in kindergarten through fourth grade:
Ayers Ryal Side Elementary School
Centerville Elementary School
Cove Elementary School
Hannah Elementary School
North Beverly Elementary School
There is one middle school in Beverly that provides education to students in the fifth to eighth grade:
There is one high school in Beverly that provides education to students in the ninth through twelfth grade:
Beverly is also home to several private schools that provide education to students in kindergarten through twelfth grade. This includes:
New England Academy
Landmark School
Harborlight-Stoneridge Montessori School
Beverly School for the Deaf
Saints Academy
Bright Horizons School
The Waring School
Glen Urquhart School
Mrs. Alexander's School
The city is also home to the Landmark School, known worldwide for the education it provides for students with learning disabilities.
Nearby
Beverly consists of plenty of outdoor attractions to keep locals healthy, active, and out in the fresh air! This includes several beautiful parks, five beaches, the Beverly Golf and Tennis Club, and two yacht clubs.
Indoor entertainment can be found at one of Beverly's popular theatres. The Cabot Street Cinema Theatre boasts the world's longest running magician's show, which ran from February 1977 to May 2012. The theatre showcases films on a regular basis and is host to many concerts and other community events. The Larcom Theatre is a historic multipurpose music and performing arts theatre. Built in 1912, this 560-seat vintage theatre has been a staple in the community for many years and is known of its incredible acoustics.
View All Homes For Sale in Beverly, MA >>>
Swampscott
Settled in 1629 and incorporated as a town in 1852, Swampscott's name is derived from a local Native American tribe meaning "red rock." This affluent residential community is known for its quiet suburban character and the beautiful beaches found within its border.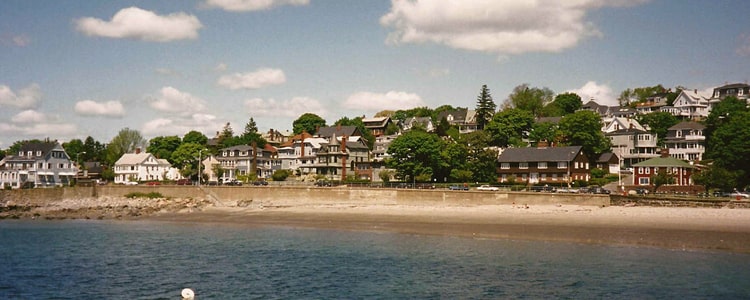 Sitting along a rocky shoreline, Swampscott is a coastal community made up of 6.7 square miles; over 54% of which is made up of water from the Massachusetts Bay and the Atlantic Ocean. The rich and the wealthy were first attracted to this area at the beginning of the 20th century and Swampscott became a popular summer resort area.
Today, the town has a population of approximately 15,170 and is an excellent commuter town due to its proximity to Boston, just fifteen miles up the coast, Salem, and Cape Ann.
Real Estate
The average cost of real estate in Swampscott is approximately $475,500. Homes can be found anywhere from $275,000 for a two-bedroom, 1,210-square foot property to upwards of $6,500,000 for grand, five-bedroom, 8,399-square foot estates.
Many beautiful waterfront properties can be found among the Swampscott listings as well as quiet subdivisions and more rural properties. Detached, single-family homes typically range between $499,900 to over $6 million, with of course plenty of options in between, and condos can be found anywhere between $275,000 to $2,575,000.
Due to the diverse real estate options, Swampscott makes the perfect home for just about anybody. From working professionals to budding families or retirees, you can bet there's a place just perfect for you!
Education
More than 2,210 students in pre-kindergarten through twelfth grade attend one of the schools operated by the Swampscott Public School system. This highly rated school district has a student to teacher ratio of 12:1, which could account for their above average test scores.
There are three elementary schools in Swampscott:
Hadley Elementary School
Clarke Elementary School
Stanley Elementary School
There is just one middle and one high school found in Swampscott:
Swampscott Middle School
Swampscott High School
Nearby
Being a coastal community, Swampscott is home to a number of fabulous beaches, ready for the enjoyment of locals and visitors alike. The top beaches found in the area include:
Phillips Beach
Eisman's Beach
Whales Beach
Fisherman's Beach
King's Beach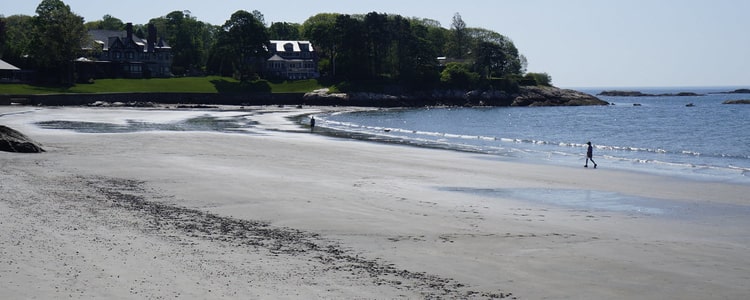 There are also several small parks in Swampscott, including Harold King Forest and the Tedesco Country Club. These parks are perfect for locals of all ages; from children enjoying the fantastic playgrounds to adults brushing up on their swing at the country club.
History buffs can enjoy one of the heritage sites found in Swampscott including:
Elihu Thomson House (aka Swampscott Town Hall)
John Humprhreys House
Mary Baker Eddy Historic House
View All Homes For Sale in Swampscott, MA >>>
If you've made it this far, you clearly have a great interest in everything that the wonderful Essex County can provide! These five towns are just a few of the incredible areas to choose from and no matter what you're looking for, you can guarantee that Essex County will have something to suit your every need and desire!
Seth has 15 + years in multi-unit retail management, and is bringing the renewed focus to the client that has been absent from the industry for decades. We integrate the latest and greatest technology, at the same time making your purchase or home sale as stress free as possible.
Get in touch today by filling out a contact form or giving us a call.